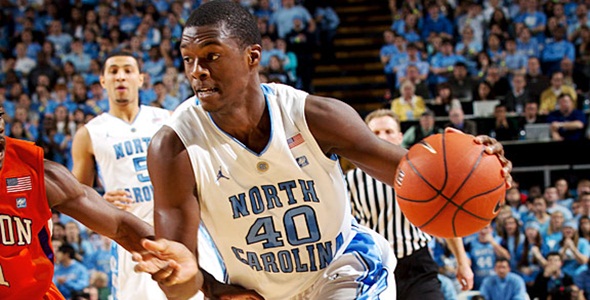 August 8, 2011 – Allen Moll
While the 2011 NBA Draft was a supposed weak field, the 2012 version of the Draft is shaping up to be one of the best in recent years. Next June, we will be hearing names of potential franchise players like Barnes, Sullinger, and Davis called by David Stern rather than some international player that will be stashed in Europe for a few seasons.
With news that UNC's Harrison Barnes, Ohio State's Jared Sullinger, and Kentucky's Terrence Jones deciding to return for their sophomore campaigns coupled with an outstanding incoming freshman class led by Austin Rivers, Anthony Davis, and Mike Gilchrist, all ready to make their mark on the college ranks, it wouldn't surprise me to see a number of NBA teams setting themselves up to move up into the Lottery for next year's Draft.
For arguement's sake and with the upcoming '11-'12 NBA season potentially in jeopardy, we'll keep last year's Draft order intact.   As always, these are the picks of one writer and may not be the consensus selections of all TheHoopDoctors.com writers.
Here's my Early 2012 NBA Top 10 Mock Draft:
Draft Order
College Team
Player
Position
Physical

1.

Cle

 UNC
Harrison Barnes
 SG
6'8   210 lbs   Sophomore
After having just an average, by his standards, beginning to his collegiate career, the Pre-Season All American 1st Teamer started to show his immense potential over the 2nd part of his freshman campaign.  His game rounded out nicely to become the Tarheels go-to-guy from the perimeter, averaging 20+ppg since February, including two 40 point games in March, and helping to lead UNC to the Elite Eight of March Madness.  By returning for his sophomore season, Barnes all but ensures himself of a Top 5 selection in next year's Draft.  Imagine Barnes paired with Irving in the Cavs backcourt for the next 5-6 years.

2.

Min

 Kentucky
Anthony Davis
 PF
6'10   210 lbs   Freshman
Although he hasn't played a minute of NCAA basketball yet, most scouts agree that this year's #1 rated HS player is a surefire NBA superstar in waiting.  Like him or not Coach Cal is a master at churning out NBA talent and should have upwards of 4 players getting selected in the 1st round once again, led by Davis.  While he's still raw, Davis nearly averaged a triple double in HS as many have compared his game to that of Kevin Garnett at the same stage.  He will be an immediate star at UK and will surely hear his name called in the Lottery in 2012.

3.

Utah

Ohio State
Jared Sullinger
 PF
6'9   280 lbs   Sophomore
When it comes to NBA ready big men, Sullinger tops the list.  Many were suprised to see him return to the Buckeyes for his sophomore campaign, but reportedly has worked hard on his conditioning to be even more beastly this season.  As a double-double machine, Sullinger is the frontrunner for the Big Ten POY and should get plenty of attention in the National POY race as well.  Ohio St is stacked once again and should get plenty of TV time, ultimately helping to showcase Jared's ample low post abilities.

4.

Cle

HS Senior
Andre Drummond
 PF
 6'10   250 lbs
Although he's in a battle with Shabazz Muhammad for the final #1 HS ranking in 2012, Drummond undoubtedly the most NBA ready.  He already has prototypical size for the PF position and looks like a man amongst boys at the HS level.  He has an eerily similar game and look to that of Amare Stoudemire which has NBA execs drooling.  Under the current NBA rules, he will be eligible to go straight to the NBA after HS because he is a year older than most prospects, as many put his chances at 50-50 at committing to Syracuse or heading to the pros as he enters his senior campaign.

5.

Tor

 Baylor
Perry Jones
 SF/PF
6'11   235lbs   Sophomore
Despite only a so-so showing in his first season at Baylor, Jones remains an elite level NBA prospect because of his amazing athleticism in a nearly 7 foot frame.  He obviously needs to add weight and show an improved low post presence but exudes star power and is getting a much improved supporting cast next season.  Perry's first year in college was widely considered a mixed bag but undoubtedly has the potential to be an elite level collegiate and pro player once he puts it all together.

6.

Was

 UConn
Jeremy Lamb
 SG
6'5   185lbs   Sophomore
Possessing a 7'4 wingspan in a 6'5 frame makes Lamb a two way star.  He's primed to take over for Kemba Walker as UConn's #1 option and should be in the running for Big East POY.  He had a great showing for Team USA in the U17 Championships and seems poised to be one of this season's breakout NCAA stars in only his sophomore season.  He does need to improve off the dribble and prove he's not just an outstanding shooter.

7.

Sac

 Kentucky
Terrence Jones
 PF
6'8   245lbs   Sophomore
After making a wise decision to return to Lexington for his sophomore season, Jones has reportedly dedicated himself to becoming one of the truly elite superstars in what will probably be his final season in college.  His extreme athleticism paired with outstanding size for the SF position makes him a potential star at the next level.  Even though his production dropped off in the 2nd half of last season, Jones still led the SEC in rebounding and seemingly loves to dunk on defenders in traffic.

8.

Det

 Kansas
Thomas Robinson
 PF
6'9   240lbs   Junior
After playing only 10 minutes per game hidden behind the departed Morris twins at Kansas, Robinson should get the chance to make his mark on the college ranks this season.  Despite limited minutes, Robinson ranked among the nation's best in rebounds per minute and should be a star in the Big 12 next season.  Robinson has prototypical size, brutish strength, and showcased his much improved offensive game this Summer.

9.

Cha

 Kentucky
Marquis Teague
 PG
6'2   180lbs   Freshman
As the next in line of great Calipari coached point guards, Teague has the potential to be one of the best.  He's already regarded as the best in the business in getting to the rim and is working on improving his jumper to keep defenses honest.  He's more in the mold of the flashier John Wall type than that of the steadier Brandon Knight but has the skills and potential to be a Top 10 pick next season.

10.

Mil

 Duke
Austin Rivers
 SG
6'4   200lbs   Freshman
Rivers has been the darling of the HS ranks for the better part of 2 seasons but now gets to prove his worth on the collegiate level.  Posessing amazing offensive skill, Rivers will score from day one at Duke, but his true value at the next level will be proven by whether he can defend opposing 2 guards.  As a coaches son, he has all the intangible to be a good NBA player, now he just needs to prove it.
Up Next:
John Henson, UNC , F, 6'10, 210lbs, Junior  – Henson has been flirting with the NBA ever since his freshman season and has made great strides in strength and conditioning in his 3 years on Tobacco Rd.  Although he prefers to play the perimeter, his future in the NBA is in the paint.  If he continues to improve his low post game to match an already above average shooting prowess and shot blocking ability he will hear his name called in the 2012 Lottery.
Mike Gilchrist, Kentucky, F, 6'7, 210lbs, Freshman – Gilchrist will be an immediate impact newcomer for Kentucky next season.  Already regarded as a lock-down defensive demon, he also averaged 20 ppg as a senior in HS.  While he's a bit undersized for the SF position, he dominated HS competition the way very few did last season.  If he improves his outside shooting, look for him to hear his name called early in next year's draft.
James McAdoo, UNC, F, 6'8, 230lbs, Freshman – As the nephew of NBA HOF Bob McAdoo, it's in the genes that James become an elite level collegiate and possibly an NBA player.  The younger McAdoo has already made his mark in the HS ranks, winning MVP honors in the Jordan Classic, and finishing as a Top 10 player in the 2011 Class.  If he can crack the starting line-up, McAdoo should be a break-out star in the college ranks from day one.
Josiah Turner, Arizona, PG, 6'3, 185lbs, Freshman – Although Arizona lost #2 overall pick Derrick Williams to the NBA and PG Momo Jones to transfer, they bring in a potential star in Turner.  He will be a superstar from day 1 and will garner some PAC-10 POY votes.  Turner ranked right alongside Teague and Kabongo in the 2011 Class as the best floor generals and should provide a boost offensively for Coach Miller, who has assembled a freshman supporting cast for Turner that rivals Kentucky in the East.    
Quincy Miller, Baylor, F, 6'9, 210lbs, Freshman – After suffering through a severe knee injury forcing him to miss most of the major season ending HS All Star games, Quincy reportedly will be near 100% by season's start.  That's a bad thing for Big 12 competition since Miller was ranked as a Top 5 player in the 2011 Class and has a game that compares favorably to 2 time NBA scoring champ Kevin Durant.  He probably is a tad mor potent inside the paint than Kevin, but is one of the most versatile big men we will see in the college ranks.
Allen Moll has been a lifelong NBA and NCAA College Basketball fan who watches and studies games religiously, and coaches youth basketball in his native Lehigh Valley region of Pennsylvania.  Allen also provides content to Bleacherreport.com, Upperdeckblog.com, in addition to being a tenured NBA and NCAA columnist for TheHoopDoctors.com.