August 8, 2011 – Allen Moll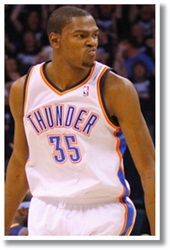 Apparently scoring 107 points over two days while hooping in NYC this past week, in addition to his 2 NBA scoring titles already in hand, wasn't enough to keep a local fan from trying to get under Kevin Durant's skin during a game at Nike Pro City.
Fresh off dropping 66 points outdoors in Harlem's famous Rucker Park, then finishing off a vicious tomahawk jam over childhood friend Michael Beasley, the Durantula scored another 41 points indoors in the Nike Pro City League.
I'm no math major but that equals 107 points scored against some of the best competition out there this Summer. Most fans would be happy to be sitting courtside to bear witness to one of Durant's masterful scoring outputs, but one annoying fan was caught on camera, playing the role of heckler.
The man's identity was unknown to the rest of the nation but his home-boys probably are giving him the stink-face after Durant played through the heckler constantly chanting "Baby Lebron" and "Russell Westbrook" before unceremoniously serving up a game tying 3 pointer, then knocking down the game winning shot in overtime.
I guess the words "eat crow" are appropriate here as Durant can be seen smiling and waving bye-bye to the annoying heckler as he walks off the court. I guess that's more appropriate than giving a fan the smush-face like Beasley recently up at the Rucker.
Check out Durant vs a Heckler:
Allen Moll has been a lifelong NBA and NCAA College Basketball fan who watches and studies games religiously, and coaches youth basketball in his native Lehigh Valley region of Pennsylvania.  Allen also provides content to Bleacherreport.com, Upperdeckblog.com, in addition to being a tenured NBA and NCAA columnist for TheHoopDoctors.com.