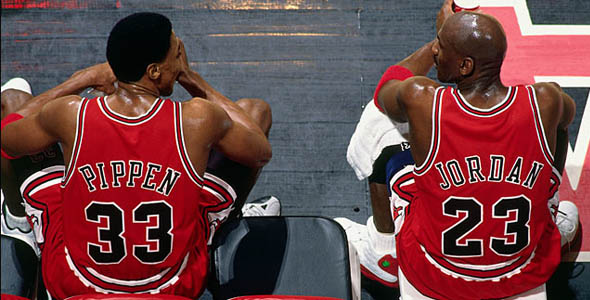 June 27, 2011 – Kevin Burke
Scottie Pippen all but set the world on fire at the conclusion of this year's Eastern Conference Finals when he stated that LeBron James may be the greatest player ever. The Hall of Famer had just witnessed  LeBron perform brilliantly on both sides of the court against his Bulls, so James' abilities were fresh in his mind. Scottie came under much scrutiny and criticism for making that bold claim, seemingly, inadvertently or otherwise, diminishing Michael Jordan's greatness to a degree. Now Scottie has changed his tune and had made a feeble attempt to clarify his original comments:
"The comments that I made were basically giving LeBron some props as a player, not to dismantle any player like Michael. We all know that he's the greatest player that ever played the game.

"I think it was taken a little bit out of context. I felt like I was drawing more of a conclusion from the statistics more than the accolades."
I always admire when an athlete makes a bold assertion, no matter how unpopular it may be, and actually sticks by his words despite the avalanche of negative backlash. However, that rarely happens. Pippen is claiming that his original comments were taken out of context. That is laughable because how can…
"Michael Jordan is probably the greatest scorer to play the game, but I may go as far as to say LeBron James may be the greatest player to ever play the game…"
…be taken out of context? Those were his original words. That sounds pretty cut and dry. There really is only one way to take that: the way it sounds.
Scottie's original comments sparked discussion amongst everyone from legendary Hall of Famers, to young hoop heads who have never seen Michael play, and everyone in between. Oscar Robertson even got involved by pretty much saying he's confused by the fuss because he doesn't regard Jordan as the greatest anyway. It even caused Stan Van Gundy, for some reason, to question if Pippen was even a star during his playing days.
Whether he'll ever admit it or not, the only reason Scottie back-pedaled was because of LeBron's poor play during the Finals. It made him look like a fool and caused people to question why he made those comments in the first place. Some thought it was out of spite because he'll always largely be remembered as "Jordan's sidekick." But if LeBron actually played up to his potential against the Mavericks and helped lead the Heat to a championship, instead of probably being the biggest reason why Dallas won, I don't this Scottie would have retreated. I truly believe he means what he originally said.
When Pippen made his claim, I thought it was impossible for anyone to completely disregard it as foolishness because of who's mouth it came out of. If anyone had the right to say such a thing, it's Pip. But if his original comment was "LeBron may be a better all around player than Michael", it may have gone over a little better. Unfortunately, the person who has really gotten the brunt of this entire situation is LeBron who is probably still wondering how and why he became a part of this in the first place.
If you're looking for your everyday, predictable basketball talk, then you've come to the wrong place, because Kevin Burke of The Kevin Burke Project brings provocative, thought provoking content about basketball as only he can. Kevin also hosts The Hoop Doctors weekly podcast show, which you can subscribe to for free on iTunes. Follow Kevin on Twitter and Facebook