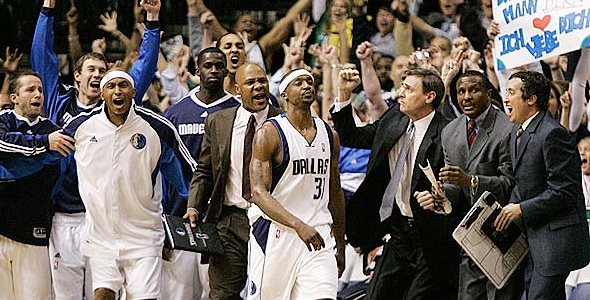 May 04, 2011 – Joshua Sexton
If there is one thing I took away from the Mavericks' Game 1 victory over the Lakers it's this: Dallas is a much deeper team than Los Angeles.
Anyone could look at the statistics and be able to tell you the Mavericks had a better bench than the Lakers this season. After all, the Mavericks had the fifth highest scoring bench in the league, compared to 27th for the Lakers.
However, I didn't realize just how dangerous the Mavericks' depth is going to be for the Lakers until Game 1 on Monday. In fact, the advantage is so glaring, I wouldn't be surprised if it turns out to be the difference in what looks to be a competitive series.
One reason the Lakers have been perceived as a deep team the last couple of seasons is Lamar Odom. For someone who follows the Lakers closely, I have always been hard pressed to consider Odom a bench player.
Maybe it is all of the games he has started in place of Andrew Bynum over the years, or the fact Odom usually finishes the game for the Lakers.
Last night, Odom scored 15 points. The combination of Matt Barnes, Steve Blake and Shannon Brown combined for a measly ten points for Los Angeles. Peja Stojakovic himself had ten for the Mavericks. Corey Brewer even got in on the action, scoring five points in eight minutes.
At the end of the Game 1, the Mavericks' reserves had outscored the Lakers' bench 40-25. Keep in mind, this was on the road, where bench players aren't supposed to play as well.
Despite the gritty comeback the Mavericks staged, and the way the team forced the Lakers into low percentage jump shots in the second half, it was the Mavericks' depth that stood out to me as a possible difference maker as the series continues.
They say everything is bigger in Texas, and the Mavericks' bench certainly lived up to this credo in Game 1.
Joshua Sexton is a lifelong basketball fanatic, who watches as many games as possible. In addition, He has played and coached the game at the high school level. He has recently started writing about the game of basketball.