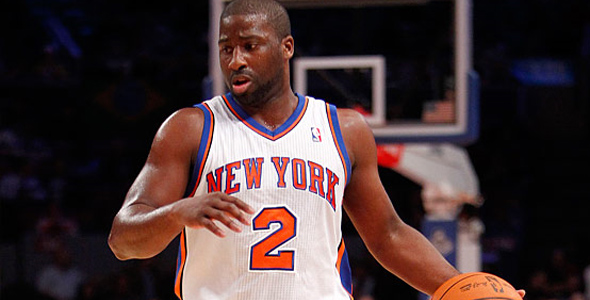 December 17, 2010 – Kevin Burke
A few years ago, Celtics coach Doc Rivers was almost fired because he wasn't generating enough wins for the team. He was spared his job and was brought back. That summer General Manger, Danny Ainge was able to attain Ray Allen and then Kevin Garnett a few weeks later. You know the story by now – in their first year together, they were able to win an NBA Championship, then miraculously Doc Rivers became a coaching genius. But that was the birth of the modern day "Big 3". It showed other teams that if you can get three good players together with a solid cast, you stand a good chance.
This past summer, the Miami Heat followed suit and formed their own "Big 3" by retaining Dwyane Wade, and acquiring Chris Bosh and LeBron James.  Although they stumbled out the gate, it looks like they've finally turned the corner with that win in Cleveland, as they've won 10 straight. Only time will tell what they will ultimately amount to but if they don't win a ring this year, they are set up nicely to do so in the next couple of years in my opinion.
Then last summer there was also the Knicks who flirted with a "Big 3". They acquired Amar'e Stoudemire (who has proven to be worth every penny) who was supposed to be the centerpiece. Then there were off-and-on talks during the summer that the Knicks also would land Carmelo Anthony and Chris Paul to join Amar'e. Every third day, there are still "Carmelo to New York is almost a done deal" headlines, so who knows. I'm all for acquiring 'Melo, but I'm here to tell you that they don't need Chris Paul. They already have Raymond Felton.
A year ago, I would've laughed at the notion of keeping Felton in lieu of Paul, but not anymore. Playing his entire career in Charlotte up until this season, not much of the country got the chance to see Felton on a nightly basis and he became the forgotten Point Guard from the 2005 Draft where he, Paul and Deron Williams were all taken in the top 5. Paul and Williams have been regarded as the best PGs in the league while we barely remembered Felton.
Now that he's in New York, I have the privilege of watching him all the time and he's a lot better than I thought. He can push the rock, make great decisions in transition and he can also run the offense in the half court. He has been nothing short of incredible so far this year and has been just as valuable to the team as Amar'e has.
Felton is averaging roughly 19 and 9 this year and should be an All-Star. I don't think he will get the nod to participate in the mid-Winter classic (I just made that up), but I think he definitely should.  Paul on the other hand is averaging 16 and 10 and he's likely to start the All-Star game. I'm not hating on Paul because he's an excellent player, I'm just merely throwing out facts.
With the addition of Paul and subtraction of Felton, the Knicks won't necessarily be that much better. They would be just as good as they are now. It's not as if Felton cost them games this year and they'd have 4 more wins. Paul is definitely quicker with the ball in his hands and more elusive as well, but Felton is just as talented a passer as Paul.
A few weeks ago, the Knicks took their talents to the Big Easy to face Paul and the Hornets, and CP3 ended up with 17 points and 10 dimes, while Felton had 17 points and 13 assists. So head to head, they had comparable nights, while Felton edged him slightly, while also getting the win.
Now that he's playing with some good players in New York, Felton looks like one of the better Point Guards in the league. His name won't turn any heads, and that's fine. I'm sure he's OK with that. But his play certainly will. I'll take 19 and 9 from my PG any day. So if the Knicks want to add Melo, cool. But to think that you need Chris Paul instead of Ray Felton to form a "Big 3" is an incorrect assumption. Stoudemire, Anthony and Felton doesn't exactly roll off the tongue like Stoudemire, Anthony and Paul, but who cares. Paul would do just fine, but Felton already has chemistry with this squad. It's not a necessary move.
If you're looking for your everyday, predictable basketball talk, then go somewhere else, because Kevin Burke of The Kevin Burke Project brings provocative, thought provoking content about basketball as only he can. Kevin also hosts The Hoop Doctors weekly podcast show, which you can subscribe to for free on iTunes. Follow Kevin on Twitter and Facebook