November 19, 2010 – Allen Moll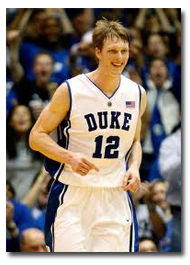 Last year's Most Outstanding Player in the Final Four Duke's Kyle Singler, has decided that his great all-around play in leading the Blue Devils to their 4th National Title just wasn't good enough to entertain the masses in college basketball. Following in the footsteps of University of Georgia junior Connor Nolte enlisting the help of Charles Barkley in making his video this past Summer, Coach K's Pre-Season All American and leading scorer from last season has decided to make his very own trick shot video titled, "Kyle Gets Buckets."
Surely no one saw this coming from Singler who is usually all business on the court as he took it to opposing small forwards last season to the tune of 17.7 ppg, 7 rebs, and 2.4 assists, while nailing nearly 40% from behind the arc in earning All ACC First Team honors. Singler was especially dominant in the NCAA Tournament, upping those numbers to 20 ppg and 9 rebounds per contest in garnering the Tourney's MOP honors.
Almost immediately following Duke besting Butler in the national title game, and despite being projected as a fringe lottery pick in the 2010 NBA Draft, Singler surprised everyone by deciding to return to Duke for his senior campaign in an attempt to close out his illustrious career winning back-to-back titles.
Singler's return as well as getting a potent infusion of youth led by freshman phenom point guard Kyrie Irving has paid off early for coach K as the Blue Devils are off to a 2-0 start, besting their competition by an average of 36 ppg. Of course, winning contests against the Ivy League's Princeton as well as Miami of Ohio are hardly a true measure of just how good this year's Duke squad will be, as surely they will be tested on Dec 1st vs #2 ranked Michigan St and on Dec 4th, when they have a much anticipated rematch against last year's national runner-up Butler.
As for the video "Kyle Gets Buckets", Singler gets creative by nailing numerous high degree of difficulty type shots from seemingly everywhere within Cameron Indoor Stadium. The longer the video progresses, Kyle things amps it up by sinking shots from the seats behind the Duke bench and even from up in the rafters that he uniquely names the Mrs. Coach K Shot and the classic Dick Vitale shot, which he proclaims as "Awesome Baby, with a capital A!"
If you can get through the cheesy music accompanying the trick shot artistry, Singler makes a pretty entertaining video.
Check out "Kyle Gets Buckets":
Allen Moll has been a lifelong NBA and NCAA College Basketball fan who watches and studies games religiously, and coaches youth basketball in his native Lehigh Valley region of Pennsylvania.  Allen also provides content to Bleacherreport.com, Upperdeckblog.com, in addition to being a tenured NBA and NCAA columnist for TheHoopDoctors.com.