October 1, 2010 – THD Rumor Patrol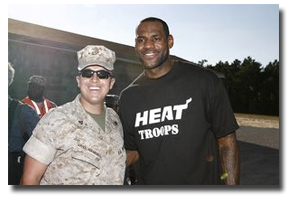 If there was ever more necessary time to undertake a positive PR campaign for the Miami Heat, i'd be shocked. If there was ever a better way to garner positive public favor across the league, i'd be shocked. That said, I can't help but read everything I can get my hands on regarding the Miami Heat conducting training camp at an Airforce Base this year…
Pat Riley got a kiss from a 5-year-old girl with a yellow ribbon tied in her hair, then climbed the steps toward the cockpit of an F-15 fighter.
It's not easy for Riley to be awed.
This scene more than did the trick.
Training camp became basic training for the Miami Heat on Thursday, when the team's players, coaches and staff spread across two U.S. Air Force bases in Florida's Panhandle for events with airmen, including simulated ground combat, meet-and-greets with families and seeing how bombs get loaded onto jets.
[+] EnlargeLeBron James
Issac Baldizon/Getty ImagesLeBron James and the Miami Heat spent time with soldiers Thursday during their time at training camp at Eglin Air Force Base, Florida.
"I think it's one of the best things that I've ever experienced," said Riley, the Hall of Fame coach and Heat president. "I hope the players take a lot out of it, too."
Seems like that's the case.
Around the time Riley took a seat at the controls of the jet — "I had my finger on the trigger," he proudly said afterward — LeBron James had a hand over his heart in another area of Eglin Air Force Base, listening to The Star-Spangled Banner. Over at Hurlburt Field, where practices have been held, Dwyane Wade and Heat coach Erik Spoelstra visited a youth center and toured a flight simulator.
An afternoon without basketball might have been the best part of Miami's day.
And it was something their hosts won't soon forget.
"It's cool," said All-Star forward Chris Bosh, one of the touted Heat newcomers this season. "I mean, it's really cool. They're excited to meet us and see us and everything, and the service that they do, the level of sacrifice for our country, I think it's very important and it just makes it cool that they're happy to see us."
Read more details via AP on ESPN.com