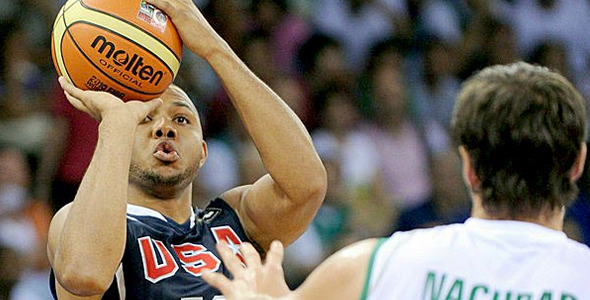 September 3, 2010 – Kevin Burke
Well, I'll be damned. Just when I thought this team and tournament couldn't get any more interesting, we hear this. Team USA Coach, Mike Krzyzewski, isn't ruling out the possibility of inserting Eric Gordon into the starting lineup. Of all the guys on the team, I thought Gordon belonged the least. Not because he can't play (he was a #7 overall pick so of course he has game), but because I didn't think he brought anything extra to the team. However, his play against Tunisia, where he had a team-high 21 points has Coach K intrigued. The U.S. played less than stellar ball for the majority of the game before Gordon's timely shooting helped them pull away to a 92-57 win.
Coach K really like what he saw out of Gordon against Tunisia. Feeling that Gordon has been a bit passive of late, Coach K had the following to say about Gordon after the game:
"Eric tonight played like he's been playing most of the time with us, except for the last two games. For some reason, he was hesitant to shoot. I talked to him before the game and said, 'Just shoot, and if you do make a move to the basket, don't look to pass.' He's a scorer, and his teammates know that. Actually I'm watching tape this morning, we gave them some feedback, and there was a play from yesterday and Eric was wide open. So I stopped it and I said, 'How many of you guys don't want him to shoot?' And nobody raised their hand. I said, 'Eric, see? Everybody wants you to shoot.' "
A little tough love was applied by Coach. But it was Tunisia and they are winless so far. If Gordon becomes a starter, he'll probably replace Chauncey Billups. With Derrick Rose playing the point, Chauncey is playing out of position at the 2-guard spot. Personally, I'd keep the backcourt the way it is. Rose and Gordon would be too inexperienced together. Chauncey is extremely savvy and always under control. If Gordon is the first guy in, and Chauncey is the first guy out, then fine. But I'd leave it how it is. If I could alter the starting lineup, I'd have Rudy Gay start instead of Andre Iguodala, but that's beside the point.
Gordon is saying all the right things though. "I'm not really worried about [starting]. I wasn't expecting to start any games here. My role is to just come in the game and be effective shooting the ball. That's what I came here to do," he said. I like that quote. It shows that he checked his ego at the door.
Coach K didn't seem very committal on whether or not he'll make a change to the starting lineup by saying, "Yeah, we'll take a look at it. We're always open for everything."  My guess is that he won't, but if so, looks like Gordon may be first up.
If you're looking for your everyday, predictable basketball talk, then go somewhere else, because Kevin Burke of The Kevin Burke Project brings provocative, thought provoking content about basketball as only he can. Kevin also hosts The Hoop Doctors weekly podcast show, which you can subscribe to for free on iTunes.