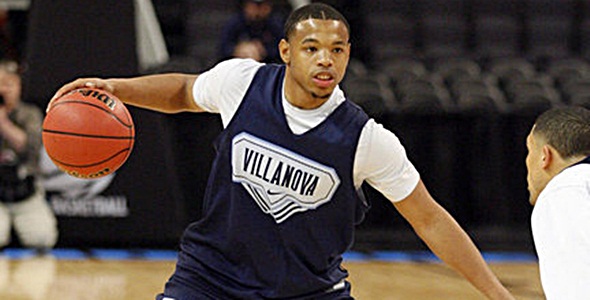 August 9, 2010 – Allen Moll
It's become customary for native New York ballers in the HS, NCAA, and NBA ranks to go back to their roots and help hone their skills on some of the most legendary playgrounds of NYC during the off-season. We have all heard of some of the exploits of Kobe Bryant at Rucker Park, Ron Artest at Dyckman, but now we have to add rising Villanova senior Corey Fisher at Watson Gleason Playground, now that the former McDonald's All American has scored 105 points in a game.
Ok. Ok. I know what your thinking, although not much defense is played in any Summer league game, you have to give the man his props for being one of the few players in the history of the game to top the century mark in points. I at first thought it was just a rumor, but the feat has been confirmed all over the internet by some pretty "reliable sources"(Dime, Bounce, and NBA Draft.net) even though no video footage is currently available.
Fisher nailed an unbelievable 23 three point shots in the regulation 40 minute game, including an impressive 72 points in the 2nd half. I guess it's safe to say he was on fire as he reportedly missed on only 5 of his 28 three point attempts. He scored 105 of his squad's 138 points in the event, further insinuating that nary any defense was on display in the tiny Watson Gleason playground, which is nestled deep in the heart of the Bronx, near the intersection of the Bruckner(Expressway) and Bronx River Parkway. Contrary to how it appears, many fans reported that the opposing team started to take it personal and even attempted to to double and triple team "Fish" in the 2nd half to no avail, as he continued his onslaught towards the 100 point plateau.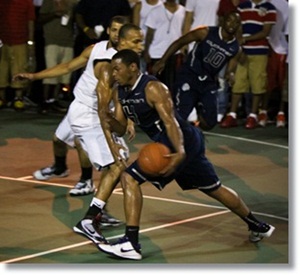 If you remember, Fisher was once an elite level recruit from St Patricks HS in Newark, NJ, in the very same 2007 high school recruiting class as Michael Beasley, Blake Griffin, and Derrick Rose. He rose to national prominence by having numerous big-time scoring games his senior year and after being named MVP at the '07 Jordan Brand Classic.  His two most memorable performances came by dropping 40 points in a win vs O.J. Mayo's WV squad(even though Mayo had 50 in the loss) and scoring 35 points against then junior Brandon Jennings(and current Milwaukee Buck) of Dominguez HS in Compton, California.
He has sort of been held in check at Villanova over the past 3 seasons, playing 2nd and 3rd fiddle to 1st Team All American Scottie Reynolds. But now that Reynolds has graduated and is off playing pro ball in Italy, Fisher along with fellow senior Corey Stokes and sophomore sensation Malik Wayns, will undoubtedly take over the bulk of scoring duties for the annual Top 25 powerhouse from the Big East. Rumor has it that there is some exclusive video footage floating around somewhere, so keep your eyes peeled to TheHoopDoctors.com, as we will be on the prowl for the footage.
Check out some exclusive pics from Bouncemag.com of Corey Fisher, as well as current NBA ballers Ron Artest, Sebastian Telfair, and Edgar Sosa, formerly of Louisville, putting in work in the NYC this Summer:
Corey Fisher showing off his handles to Baron Davis look-alike in crowd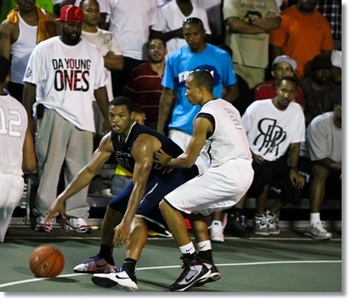 Ron Artest……..boxing out and talkin trash!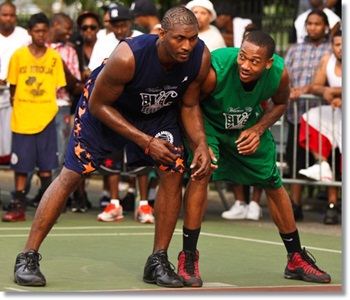 Sebastian Telfair showin love to the peeps!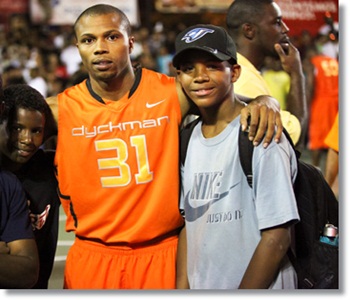 Former Louisville stand-out Edgar Sosa with his game face on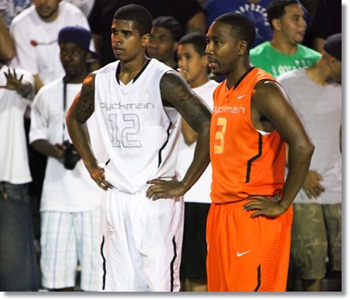 The man is known as "Fisher Price" since he toys with everyone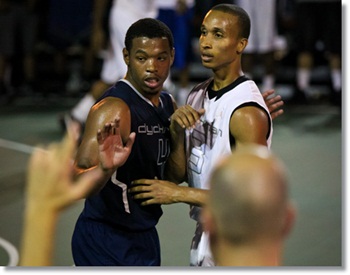 Ron-Ron…….ready to "D" em up
Allen Moll has been a lifelong NBA and NCAA College Basketball fan who watches and studies games religiously, and coaches youth basketball in his native Lehigh Valley region of Pennsylvania.  Allen also provides content to Bleacherreport.com, Upperdeckblog.com, in addition to being a tenured NBA and NCAA columnist for TheHoopDoctors.com.