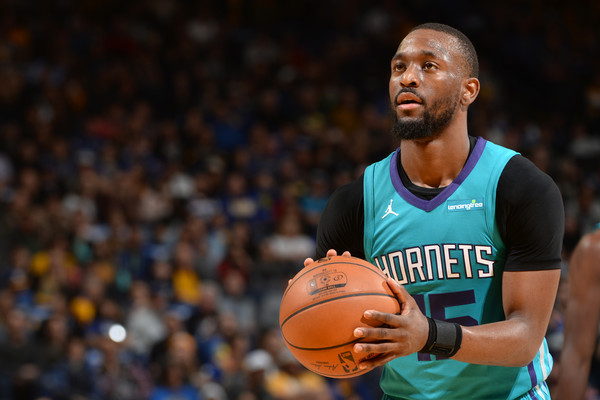 Kemba Walker was born and attended high school in New York. He's a free agent this summer. Both the New York Knicks and Brooklyn Nets will have cap space. You do the math.
Actually, on second thought, don't do the math. Walker has already declared his allegiance to the Charlotte Hornets once this summer, and now, he's done it again. Speaking with JJ Redick on his podcast for Yahoo Sports' The Vertical, Walker downplayed the importance of coming "home" and reiterated that he's comfortable in Charlotte (h/t HoopsHype):
JJ Redick: "As you've seen this summer, this notion of player loyalty gets thrown out. So in the back of your mind, I understand what you're saying publicly, but there's gotta be a part of you that's basically like, 'I gotta do what's best for me.'"

Kemba Walker: "I think at some point, it's gonna come down to that – it's gonna come down to be making the best decision for me and my family. But at this particular moment, at this time, Charlotte is where I want to be. It's the team that gave me my first opportunity. I just want to give back to the community, to the organization, just like I've done, but I want to continue to do it. I just want to help the organization become successful, and I think I can. You can count on your hand how many times we've been to the playoffs – we really haven't been successful. I want to be one of the guys that helps that organization really become successful, I want to be in the playoffs every single year. And that's a huge part of why I don't want to leave."

JJ Redick: "This week, you did the NBPA camp, and the New York media asked you about playing at home… I feel like this notion, of playing at home, a lot of guys don't want to do it. Why do you think that is?"

Kemba Walker: "I think it's just hard coming back home. New York is New York. I'm from here. But you know, I'm just very comfortable in Charlotte. That's why I gave [the media] those answers. Charlotte was the first team to give me my opportunity out of college, and during the draft, I had no idea where I was going. So I get asked questions about New York all the time, and I'm like, 'I don't know.' I've been on one team my whole entire career so far and I'll be a free agent next season, so, we'll see."
Walker doesn't guarantee that he'll re-sign in Charlotte, because he can't. A lot can happen between now and next season. The Hornets are trying to stave off a rebuild. But if they fail, if it becomes clear they're out of the playoff picture by Jan. 1, his name will undoubtedly find its way on to the chopping block.
Even if he isn't moved at the deadline, his free agency is hardly a non-issue. The Hornets can offer him a fifth year and higher annual raises, but will they use that trump card? They profile as a team that will continue to be stuck in the middle at best by season's end. Committing big money over the long term to a then-29-year-old point guard qualifies as a demonstrative risk.
And then there's Walker to consider. He may not be itching to play in New York, but he's yet to make it past the first round of the playoffs. He could want to play for a team, regardless of location, that's better positioned to make a stronger postseason push. Then again, as someone who isn't guaranteed max offers, he could also see value in taking the extra guaranteed security the Hornets might be dangling.
This is to say, Walker's future in Charlotte continues to be shrouded in uncertainty. He could be with the Hornets by the start of 2019-20. He could be a member of the Knicks. He could be a member of the Nets. He could end up somewhere else. It's too early to tell.