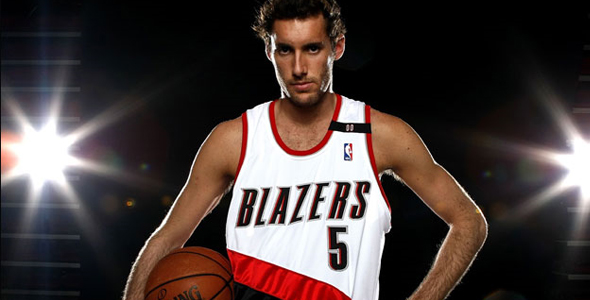 August 20, 2010 – Kevin Burke
The Blazers' Rudy Fernandez apparently isn't happy in Portland, and he wanted everyone to know it. Fernandez was just fined $25,000 by the NBA for going public with his trade demands. How unhappy is he? His agent has said that his client will not report to training camp and would potentially sit out the next two seasons if the Blazers refuse to trade him. Apparently, Rudy thinks he's in the NFL.
Around the time of the NBA draft, it has been speculated that several teams offered to send their first round pick to Portland in exchange for Fernandez, but they were all shot down. Perhaps Fernandez caught wind of this and didn't take kindly to it. Since the draft, the Knicks, Bulls and Celtics have had their eye on Fernandez, but Portland has not budged.
Fernandez has even taken it a step further and told Spanish publications that he wouldn't mind returning to Spain to play professionally. Above all, Rudy was disappointed in his diminished role in his second season. Coach, Nate McMillan has a good reason for that.
"Last year, bringing in Andre Miller and having Steve Blake, we were starting with four guards. And he's playing behind an All-Star in Brandon Roy, and he's a 2, and neither one of those guy is a 3. So the minutes were cut simply because we had a four-guard rotation. I think in all team sports you have situations where people want more, and you have to make sacrifices…Not only was he feeling that way, Jarryd Bayless was feeling that way, and Martell Webster was feeling that way."
Nate McMillan and Fernandez have spoken this summer and it has been described as "a good conversation." Despite that, it sounds like this is going to end ugly because Rudy has developed symptoms of a malcontent. But it they catch it early enough, it could go away.
If you're looking for your everyday, predictable basketball talk, then go somewhere else, because Kevin Burke of The Kevin Burke Project brings provocative, thought provoking content about basketball as only he can. Kevin also hosts The Hoop Doctors weekly podcast show, which you can subscribe to for free on iTunes.