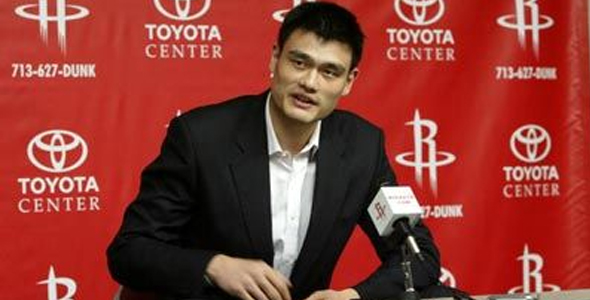 July 29, 2010 – Kevin Burke
Remember Yao Ming? It seems like forever since we've seem him healthy and contributing on the court for the Houston Rockets, rather than posing as an oversized cheerleader on the sidelines. May 8, 2009 to be exact. That was when he suffered a hairline fracture to his left foot during a second-round playoff game against the Lakers. He missed all of the 2009-2010 due to this nagging injury. From the very beginning, the foot was behind schedule and as of right now, he may miss the first two months of this coming season. It was initially thought that he would be out for 8-12 weeks. Boy were they wrong.
This naturally has Yao frustrated. So much that he's considering retiring after this coming year if the foot doesn't heal properly.
"If the foot injury does not heal next season, I might choose to call it quits," he said.
Believe it or not, Yao is still just 29-years old and, in theory, should have a solid 5-7 years left. But at 7'6″ and 310 pounds, it's pretty much inevitable that he would have lingering problems with his legs and/or feet. That's just too much weight and size on those limbs. The last two seasons he played ended with him having leg issues during the playoffs because at that stage of the season, his legs have had enough.
As the years went on, you could begin to notice a pattern in the availability of the 2002 #1 overall draft pick.  He missed 21 games in 2005-2006 after having surgery to heal an infection in his left big toe, and a broken bone in his left foot.  In 2006-2007, Yao missed 32 games after breaking his right leg. He then missed 26 more games in 2007-2008 after sustaining a stress fracture in his left foot. He played in 77 games in 2008-2009. That was the most since 2004-2005 when he participated in 80 contests. If nothing else, Yao has to be used to this. However, these absences due to injury are not just a big coincidence.
The Rockets signed Brad Miller this summer because of Yao's condition. Not that Brad will win games by himself or fill an arena at this stage in his career, but he's still a serviceable big man. Regardless of how his foot heels, Yao won't be participating in the 2012 Olympics, which is something that he prides himself on. He even rushed back from injury so that he could play at home during the '08 Games in Beijing. "The chance is very small," said Yao about his potential participation in 2012.
"The foot injury will not allow me to play so many games anymore. Like I said before, I will quit the national team and the sport one day. It's what happens to every athlete."
At least he realizes when it's time to let go. If only all athletes had that same epiphany.
Regardless of when Yao comes back it won't really matter for Houston because he definitely won't be his old self. I see him being limited to 25-30 minutes a night, which will impact his production. Not only will he play less, but he'll be rusty and older. Yao's best days are clearly behind him and the way he's talking, perhaps his career isn't too far behind either. Houston fans are praying he can go out with some level of respectability, and more importantly they are hoping that's beyond next season.
If you're looking for your everyday, predictable basketball talk, then go somewhere else, because Kevin Burke of The Kevin Burke Project brings provocative, thought provoking content about basketball as only he can. Kevin also hosts The Hoop Doctors weekly podcast show, which you can subscribe too for free on iTunes.