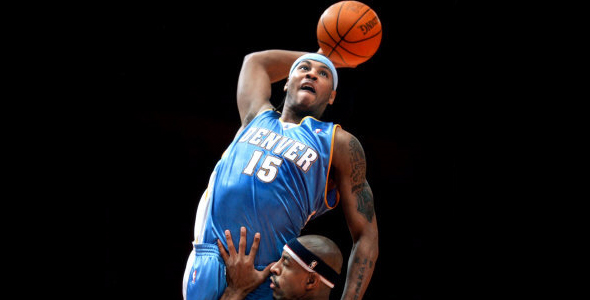 July 7, 2010 – Kevin Burke
The much anticipated summer of 2010 is here in case you haven't heard, and the mayhem has officially begun. Exorbitant, unwarranted contracts are flying left and right to the many free agents. Make sure you look both ways when crossing the street. You don't want to be blindsided by one. I'm sure the LeBrons and D-Wades of the world feel absolutely untouchable. How could they not? They have these suits flying all over the country practically begging them to take their millions of dollars. However, these suits aren't drooling over just anyone. I don't know for certain, but I'm willing to bet that John Salmons' phone wasn't exactly ringing off the hook on July 1st at a minute after midnight, but I digress.
Although it doesn't seem like it, there are plenty of other certified superstars in the league who aren't free agents this summer. One in particular is Denver's Carmelo Anthony. Even though 'Melo joined the Association the same year (2003) as LeBron, Wade and Bosh, those guys are free agents this year, while he isn't. That's because in 2006 when their rookie contracts were set to expire, LeBron, Wade and Bosh opted to sign 3-year extensions rather than the 5-year extension that Carmelo ultimately signed. The thought process behind signing the 3-year deal at the time was that it would enable them to be eligible for a larger contract sooner and they did not want to wait 5 years for that day to come. It was a business decision. A wise business decision.
The criticism, however, with the 3-year deal is that they were turning down a sure thing financially. Carmelo didn't want to roll the dice or potentially turn down guaranteed money. He opted for the 5-year, $80M offer that the Nuggets presented him with, securing his future financially. He understood what those other 3 guys were doing, but he saw things a bit differently. Regarding this decision, back in 2006, Anthony said "It was a no-brainer for me. When all the rumors were out there saying I was signing this type of deal or that type of deal, my family called me and said, 'Look, are you crazy?' Growing up we didn't have [much]."
However, he does have a clause in the contract which states that he can terminate the deal after the fourth year by opting out, which is next year – the summer of 2011. Over the past week or so, we've heard rumors and speculation that Carmelo Anthony is unhappy in Denver. In his 7 seasons in the Mile High City, I don't believe I've ever heard anything even remotely similar to this before. My first inclination was to think that maybe this has been stirred up because he wishes he did take the 3-year deal in 2006 so that he could take part of this unprecedented summer of college-esque recruiting trips. Maybe he feels left out. However, the fact that there is even a rumor that he may be unhappy means that the Nuggets should proceed with caution. You don't want a guy as fundamentally skilled and as savvy as Carmelo to leave via free agency and not receive anything back in return. That sort of thing cripples franchises for decades. The obvious thing to do would be to look into trading him. But, that seemed to have been thrown out the window earlier in the week when a high-ranking Nuggets official stated "there is no way we are trading Carmelo Anthony. We're 100 percent certain of that."
In order to thwart the notion of 'Melo bolting, the team has offered him a 3-year, $65M extension that he must sign by July 1, 2011. It may be in Carmelo's best interest to sign this extension because next year there will be a new collective bargaining agreement in place that is supposed to be far less lucrative for players throughout the life of the contract. By turning down this contract extension, Anthony could potentially be leaving millions on the table. Hindsight is 20/20, but perhaps Carmelo should've taken the 3-year deal in 2006 along with his fellow 2003 draftees.
If you're looking for your everyday, predictable basketball talk, then go somewhere else, because Kevin Burke of The Kevin Burke Project brings provocative, thought provoking content about basketball as only he can. Kevin also hosts The Hoop Doctors weekly podcast show, which you can subscribe too for free on iTunes.