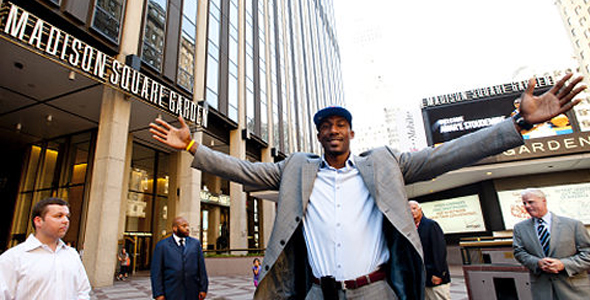 July 7, 2010 – R.S. De France
When the New York Knicks landed Amar'e Stoudemire this week, it was hardly a big shock (trading moratorium until Thursday, when it can be made official).  We all knew they were shopping.  In fact, it's an interesting move considering that last season when the Cleveland Cavaliers signed Antawn Jamison last season, LeBron James publically stated he preferred Stoudemire.  Will this signing help the Knicks nab James?  How much better will the Knicks be?
Although I've always liked watching Stoudemire's dunks and highlights, when you sit down and crunch the numbers, I'm not so sure this was the best deal.
Stoudemire was a beast in '05 when he averaged 29.9 ppg and 15 rpg in the playoffs.  This was the Amar'e we thought could grow into one of the best big men in the league.  Sadly, since his microfracture surgery on his left knee in October of 2005, Stoudemire has never really been the same.
Stoudemire is still a tremendous scorer and player, but since the surgery—the beast is gone.  The beast was the Amar'e that dominated Tim Duncan, individually, in a Western Conference Finals series in 2005.  Although Duncan also had a great series, 23 ppg and 12 rpg, he could not stop Stoudemire.  He put up 41, 37, 34, 31, and 42 points in each game of the series for a 37 ppg.  On the other hand, the series was a lop-sided win, 4-1, for the Spurs.  While maybe he cannot lead, he can put points on the board.
As mentioned by lots of Stoudemire critics, his defense and rebounding are questionable at best.  Even before the knee surgery, Stoudemire was not the best rebounder (8.9 rpg).  In Phoenix, he usually let Shawn Marion pick up the rebounds, as he did when Marion led the team in playoff rebounds in 2005 (11.4 rpg).  This leads me to think the Knicks will want an additional rebounder on the floor, like a David Lee, to pick up the garbage.  Other than rebounds and defense, which are effort issues with Stoudemire, one of the biggest problems with building around Stoudemire is that he does not make his teammates better (1.3 apg).
We will see if he can dispel that notion because Stoudemire, playing for the first time without All-star point guard Steve Nash, will be forced to lead and distribute the ball to teammates where they can be effective.
Other than that, his health issues are slightly concerning.  Of his 8 seasons, Stoudemire has played less than 60 games in 3 of them.  On the plus side, Stoudemire's numbers, overall, pre- and post-surgery are not significantly different.
That is, other than one key element:  Stoudemire's playoff numbers, post-surgery, have all been worse than his regular seasons.  So, Stoudemire has played worse in the playoffs than regular season over the past several seasons.  Maybe he helps you win during the season, but he is less effective when it really matters (since the surgery).
With Chris Bosh likely going elsewhere, the Knicks made a good move in signing Stoudemire, but with a max deal at nearly $100 million over five years, one has to wonder if the Knicks over-paid for a power-forward, who is an unproven leader.  There was a reason why neither the Suns, nor any other team, offered Stoudemire that kind of contract.
This is, however, just the beginning for the Knicks, as I have a feeling there are more moves on the horizon.  Having lost Nate Robinson (Celtics), Sergio Rodriguez (Spain), and Chris Duhon (Magic) this year, the Knicks desperately need a solid point guard.  With Duhon gone and Stoudemire's inability to distribute, the Knicks clearly need someone to get the ball moving.  Only, the point guard options in the 2010 free agency are limited and decreasing daily (i.e. Steve Blake to Lakers), so the Knicks could surely use someone like LeBron James (8.6 apg last year).  But, it does make you think about who needs who.  Clearly, the Knicks need James now more than ever, but does the addition of Stoudemire make the Knicks more attractive to LeBron James?
R.S. De France is a College and University instructor of English Composition. He has a B.A. in English and an M.A. in Rhetoric, Composition, and Writing. One of his life-long pursuits has been writing and covering anything related to sports, specifically the NBA. Recently, De France, his wife, and another colleague started an internationally read magazine at Shwibly.com.