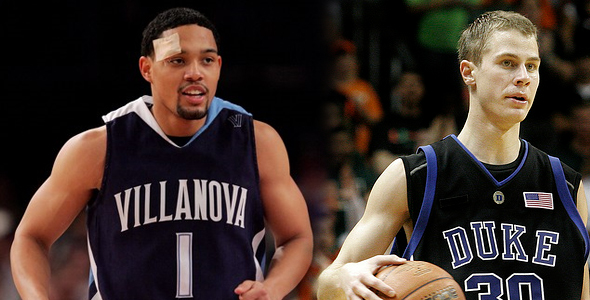 June 28, 2010 – Kevin Burke
The 2010 NBA Draft came and went. Many guys had life long dreams come true by hearing their names called, and some guys had their dreams shattered by not having that same fortune. The three most glaring omissions from last Thursday's draft in my opinion were Villanova's Scottie Reynolds, Kansas' Sherrone Collins and Duke's Jon Scheyer. They were three of the most talked about players last year in college basketball. Reynolds was a 1st team All-America selection, and Collins and Scheyer earned 2nd team honors. Each had very solid college careers and have one thing in common. One obvious thing. They're all seniors.
Nowadays, if a guy stays in school for 4 years, you know what, he's probably not really league material. It is what it is. That's the world we live in today. If guys are good enough to make that leap the the NBA, they do that as early as possible. Unfortunately, some guys leave earlier than they should but that's besides the point. It's almost as if guys are frowned upon when their name is in the draft and they are seniors. They're perceived as ancient. The first senior taken was actually Clemson's Trevor Booker at #23.
Scottie Reynolds was the first AP 1st team All-America selection to go undrafted since the 1976 NBA – ABA. In his senior campaign, Scottie averaged 18.5 points per game and 3.3 assists. Very strong numbers. But, it wasn't too difficult to see that he probably wasn't league material. Jon Scheyer averaged 18.2 points, 4.9 assists and was the most important piece of Duke's championship run. He was the floor general and the glue that held that squad together. However, nothing about his game said "next level." Similarly, Sherrone Collins' 15.5 points and 4.5 dimes held the Jayhawks together as well, but just simply won't get it done in the Association. There are some guys who are just very good college players and nothing more. That's not a knock on those guys.  Not everybody's game translates to NBA just because you had a decorated college career. And chances are, if you played 4 years of college ball, you're one of those guys.
In the last 20 years, only 4 seniors have been taken #1 overall (in other words, the best player available) in the NBA Draft: Cincinnati's Kenyon Martin in 2000, Wake Forest's Tim Duncan in 1997, UNLV's Larry Johnson in 1991 and Syracuse's Derrick Coleman in 1990. That's a pretty telling stat. What's more telling is that the most recent, Kenyon Martin, was 10 years ago. I'm a firm believer in the notion of guys leaving school early if it means they have realistic option of playing ball in th NBA and earning alot of money. I'm all for it. Strike when the iron is hot. But, saying that a guy is "experienced" because he played 4 years is a very polite way of saying that he wasn't good enough to leave early. I understand that some seniors go one to having good pro careers, so I'm not saying that it never happens, but early entrants are definitely more coveted.
If you're looking for your everyday, predictable basketball talk, then go somewhere else, because Kevin Burke of The Kevin Burke Project brings provocative, thought provoking content about basketball as only he can. Kevin also hosts The Hoop Doctors weekly podcast show, which you can subscribe too for free on iTunes.