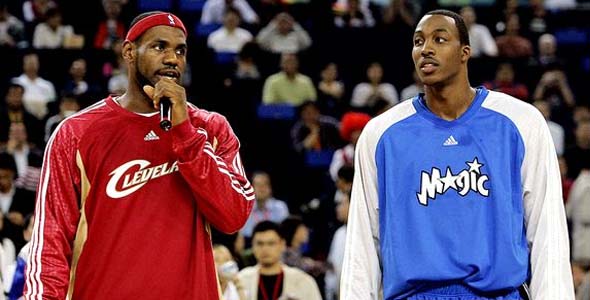 May 29, 2009 – Dr. Anklesnap
As if their on court battles in the Eastern Conference Finals thus far weren't enough to satisfy the wants and needs of every NBA fan, Dwight Howard of the Orlando Magic and Lebron James of the Cleveland Cavaliers have also been battling it out for supremacy of the trick shot. Before each game and sometimes at half-time, when the camera's are rolling Dwight Howard and Lebron James seem to be spending at least a couple minutes trying to 'one-up' eachother by hitting ridiculous half-court shots.
Until now I would have to give the upper hand to Lebron James for hitting this underhanded half court shot. But my vote after seeing the following video of Dwight Howard shooting a sweeping hook shot from half court and making it, will have to go to 'Superman'. Let's see who will get the last laugh on the court. though. The series is at 3-2 in favor of the Magic. Can't wait to watch Game 6.