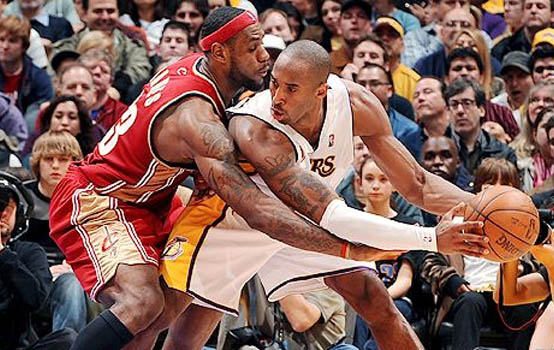 February 8, 2009 – Dr. Anklesnap
So there was a "tad bit" of hype coming into today's game between the LA Lakers and Cleveland Cavaliers. Ummmm, mainly because of a couple of players you may or may not have heard of named Kobe Bryant and Lebron James? Well if so, you'll know they are far and away the two leading candidates right now for the NBA's 2009 MVP Award. Add to the fact that the Lakers are sporting the league's best record, they were facing off against the only undefeated team at home with the game set in Cleveland, and there is bound to be some chatter.
Although the game was close until late in the 4th quarter, and there were great performances from Lamar Odom, Mo Williams, Wally Sczerbiak, and Pau Gasol, I felt a little bit disappointed at the end of the game. Personally it was a slight letdown on the Kobe-Lebron front. Kobe reportedly was suffering from 'flu-like symptoms' and played limited minutes in the 4th, finishing with 19 points. Lebron almost had a triple double on the box score, but for those that watched the game they would know he didn't seem to be his usual dominant self. No highlight reel plays, and very few big plays when it mattered. Lebron had 16 points. How surprising is it that a guy that had 61 and another that had 52 this week against the Knicks, couldn't even crack the 20 point barrier.
Well never fear Lakers fans, there was one 4th quarter highlight reel play to speak of….classic Kobe Bryant. It was late in the 4th quarter with the Lakers up by only 4 points. Kobe gets the ball on the right side and isolates against Lebron James. Bryant gives James a bit of a shake to create some space, but given Lebron's freakish athleticism was able to recover to get a hand close to blocking Bryant. So what does Bryant do, but arc the ball way up in the air over top of the outstretched hand of Lebron James. Cash money! What a shot…..check it out for yourself: