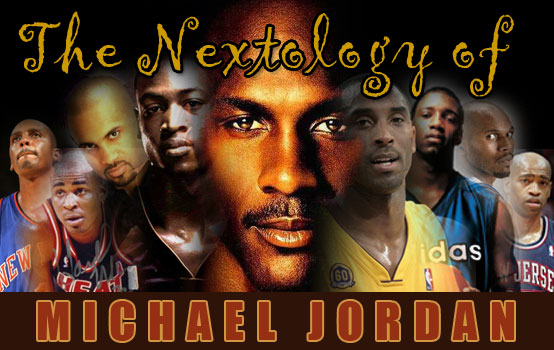 The Hoop Doctors love Michael Jordan. That's got to be pretty obvious to everyone by now. So in honor of Michael, and to discourage the media from pretending to be clairvoyant in the future when it comes to comparing young ballers to the greatest to ever play, every week I will be shining a little light on each of the media's shortcomings when it has come to these ridiculous and presumptuous predictions.
These posts are not intended to disrespect any of the players compared to Jordan in any way. They all had excellent careers and were or are tremendous basketball players. It is not your fault someone with very little knowledge of the game or even the skill to play this game decided to call you the "Next Jordan". Part IV to my series called "The Nextology of Michael Jordan" will be looking at Harold 'Baby Jordan' Miner:
But to take a good look at how different their careers were, I think you always have to start off by taking a birds eye view of the comparison by checking out their individual career stats. Here is the statistical comparison below in this chart:

| | | | | | | | | |
| --- | --- | --- | --- | --- | --- | --- | --- | --- |
| H.M. Stats: | 9.0 ppg | 2.2 rpg | 1.2 apg | 0.4 spg | 0.1 bpg | .460 FG% | .311 3P% | .785 FT% |
| M.J. Stats: | 30.1 ppg | 6.2 rpg | 5.3 apg | 2.4 spg | 0.8 bpg | .497 FG% | .327 3P% | .835 FT% |
Of all of the players in this series to be compared to Michael Jordan by the media, Harold Miner is definitely the least deserving. Once again this isn't a knock on Harold Miner, he was a great leaper and two time dunk contest winner, but his actual all-around game was seriously lacking. In fact he only ended up playing 4 seasons in the NBA before failing to make the Toronto Raptors squad in 1996 and quietly walking away from pro basketball.
Harold Miner will always be remembered as the guy with amazing vertical leap. After being drafted 12th overall by the Miami Heat in 1992, Miner quickly earned the nickname "Baby Jordan" due to his ridiculous leaping ability. He never failed to entertain in a dunk contest, and won both the 1993 and 1995 contest. I will never forget the 1995 contest when he upset the field by taking down the defending champion and heavily favored Isaiah Ryder. Just one year earlier Ryder had shocked the world by putting the ball through his legs on a dunk coined the "East Bay Funk". For me Miner will always be known for the style and flash he brought to the reverse dunk called the "Bread and Butter".
But back to what counts for a minute…..on court play. Miner was all flash and very little substance. He was not a great defender, and although he shot a decent percentage, he was often in the coaches bad books due to poor shot selection. Those coaches, Alvin Gentry and Kevin Loughery, never really gave 'Baby Jordan' much burn. Miner only averaged 18 minutes per game throughout his short career.
After retirement, word has it that Harold Miner is now a real estate investor in Las Vegas and has continually shied away from the media and taking any interviews…
Tell us your thoughts below on Harold Minor being once called 'The Next Jordan' and 'Baby Jordan'…..Also stay tuned next week for Part V in the "Nextology of Michael Jordan" series by Dr. Anklesnap.
Links to Other 'Nextology' Posts: