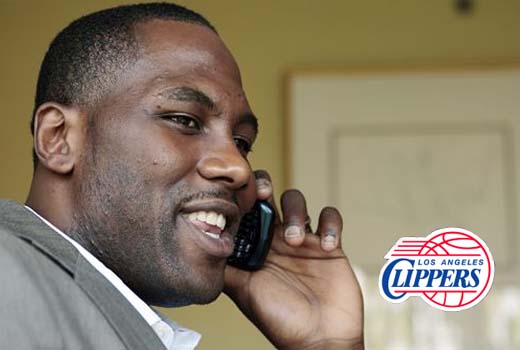 July 3rd, 2008 – Dr. Anklesnap
Yes, Elton Brand opted out of the final year of his contract earlier this week. Yes, the Golden State Warriors offered Brand over $20 million more dollars than the Clippers. Yes, the Philadelphia 76ers have the most cap space and will likely jump through the necessary hoops and offer Brand a max deal to try and get lucky. But ultimately No, Elton Brand will not sign with another team outside of L.A. At the end of the NBA free agent sign and trade moratorium Elton Brand will sign a contract with the Clippers large enough to ensure he is being paid handsomely, but small enough not to handicap the Clippers chances of ever being a contending team in the West.
For those of you who actually believe Brand may take the Golden State Warriors offer, you have not been following Elton Brand and his career very closely. Brand is a true class act, and he surely isn't motivated solely by monetary considerations. There will be no scandals here folks. Not where Elton Brand is concerned. I think a guy like Brand deserves to be taken at his word, when he publicly stated that he was only opting out of the final year of his contract to give the Clippers franchise enough financial flexibility to put some key pieces around him to make the team a contender. The Clippers organization took the first (and largest possible) step in doing so this week when they came to terms with Baron Davis on a 5-year deal for the veteran superstar. The Davis-Brand lethal inside/outside potential is too much for Brand to pass up for an extra few million bucks a year. And it's not like the Clippers are going to offer him peanuts. He'll still get paid enough to "feed his family", as a very wise Latrell Spreewell once put it.


Although this might be just some added fluff on the side to consider, Elton Brand off the court has a hobby in common with Baron Davis. The film industry. We all know about Baron Davis' involvement producing movies, his most recent "Made in America" hitting up the film festival scene as we speak. But what most NBA fans don't know is that Elton Brand is in business himself in the film industry as a co-owner of a production company called Gibraltar Films that invests, produces, and distributes motion pictures. Some may have heard of the Gibraltar Films first film produced called Rescue Dawn starring Christian Bale and Steve Zahn.
Maybe Baron Davis and Elton Brand will be making more than just sweet NBA highlight videos together this year? L.A. Confidential: Part II anyone?