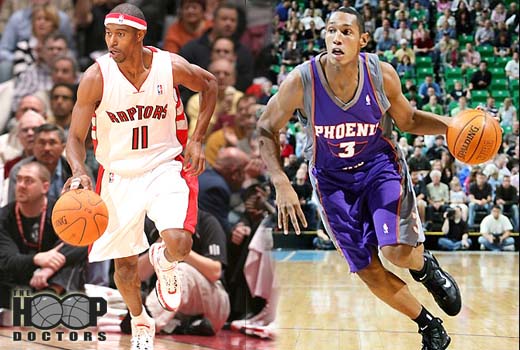 June 20th, 2008 – Dr. Browntorious

Every day that passes as we get closer to the June 26th NBA draft date, the trade talks and possibilities for roster shake-ups for GM's to either improve their position in the draft or to bring in key veterans is increasing. However, there are probably no GM's that are working the phones as hard as Steve Kerr of the Phoenix Suns and Bryan Colangelo of the Toronto Raptors. Both of which, not surprisingly, were direct protégé's of the hard working Jerry Colangelo from the Phoenix Suns organization. Hard work begets hard work, huh?
The Phoenix Suns and Toronto Raptors are not looking to rebuild for their future. That is why neither team is really looking to get much use out of their 15th (Suns) and 17th (Raptors) draft choices. That leaves the teams with two choices. One is to trade away their pick to teams that are in the rebuilding process and may like a couple of first round draft picks. The second option is to make a trade of their mid-first round pick plus a current asset to move up in the draft order significantly enough to get an immediate impact player in the draft.


Steve Kerr is looking to do one of two things. The first would be to move up in the draft for an NBA ready player such as Russell Westbrook or Brandon Rush. Either of which would fit their altered system under new Head Coach Terry Porter quite nicely since they are players that are fairly well balanced. The Suns need either a legitimate swing player that is athletic and takes care of the ball, and a really reliable back up for Steve Nash so he doesn't need to log such heavy minutes throughout the course of the regular season. The second option for Kerr is to trade away the 15th pick altogether along with one of his assets that he has on the block (forward Boris Diaw, or G Leandro Barbosa), in order to acquire a quality veteran player from another team.
Let's face it, Barbosa was a great player under D'Antoni's system but under a more offensive/defensive balanced system as purported that Porter will play, he is not really a point guard offensively and not exactly a shooting guard defensively. Grant Hill is at a point in his career that if the Suns work him 30-40 minutes a night at the SF spot he is once again going to break down before the playoffs roll around. So who is on the market that could fill the Suns void at backup point guard or small forward that the Suns may be able to go after with a package of some combination of Diaw, Barbosa, and/or the 15th pick? Some of the bigger names being floated are TJ Ford of the Toronto Raptors, Richard Jefferson of the New Jersey Nets, Tayshaun Prince of the Detroit Pistons, Gerald Wallace of the Charlotte Bobcats, and even Josh Howard of the Dallas Mavericks would fit that bill.
It was reported today by various mainstream news sources that the Raptors and Suns were close in their trade talks in a Ford for Diaw swap. Apparently Colangelo feels that Diaw would be the perfect fit with his versatility to play many positions due to his size, ability to handle the ball, and passing abilities. Although Ford would most likely be apprehensive about moving to a team as a back-up point guard, it would be hard to argue backing up a two time league MVP in Steve Nash. Plus, the new Suns Coach Terry Porter still has a good working relationship with TJ from his days as the Coach of the Milwaukee Bucks. Given the fact that most teams around the league are apprehensive about making any substantial offer for Ford due to his ongoing neck and spine health issues, if Colangelo can pull off a trade of Ford for a quality player such as Diaw it would be quite the feather in his cap and a great win for the Raptors organization.
If the buzz and noise signals are any indications of pending moves, watch the Raptors and Suns closely over the coming week as they look to be the teams closest to making some sort of move prior to the NBA draft.