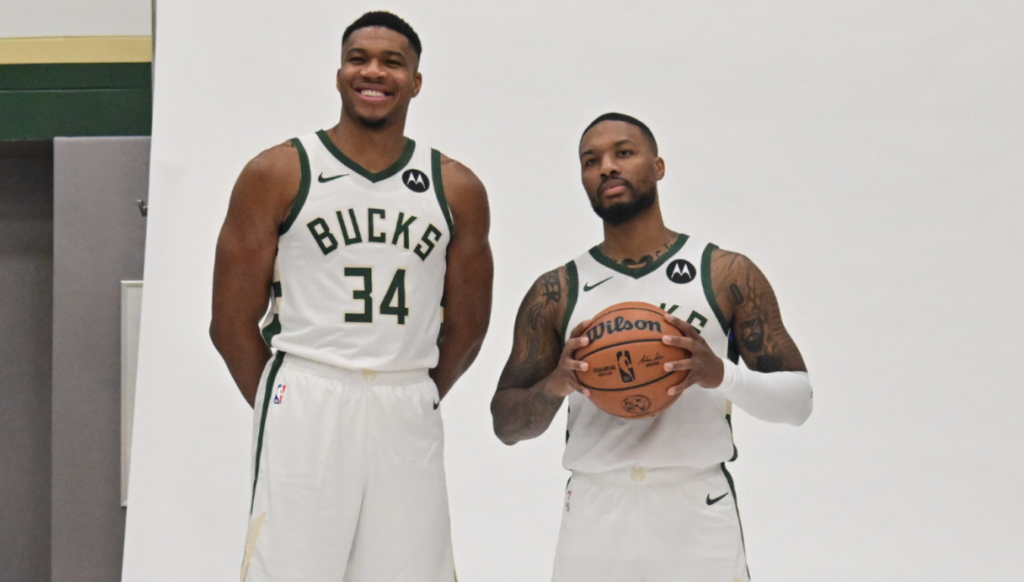 As we gear up for the fast-approaching 2023-24 NBA season, there's an electric buzz of anticipation. With training camps opening up across the league, fans and pundits alike are on the edge, waiting to see how this season's narrative will unfold. There are plenty of trade dilemmas and new rules coming into play, promising to shake things up and keep us all on our toes.
And amidst all this, some rising stars are poised to make their mark on the game. In this piece, we'll be delving into the talent-packed world of the NBA, predicting who might be the game-changers in the coming season. So, buckle up, basketball fans – it will be quite a ride!
Damian Lillard Becomes a Milwaukee Buck Just Before the Regular Season Tips Off
The Damian Lillard saga continues was a hot topic as the 2023-24 NBA season approached. Months after Lillard expressed his desire to be traded away from Portland, he was finally moved to the Milwaukee Bucks. Negotiations with the Miami Heat, his preferred destination, went nowhere with the Heat trying to lowball offers to the Blazers knowing that they were the only preferred destination for Lillard. The Trail Blazers, understandably were seeking a hefty return for their superstar guard, and wouldn't comprimise.
Although Lillard didn't land with his preferred team, its not a bad consolation prize to land as teammates with Giannis and immediately become a contender in the East and possible contender for the NBA Championship. The Miami Heat odds however are still strong for the season with Butler and company ready for a return to the Eastern Conference championship and finals.
The James Harden Story Continues into the New Season
James Harden's future with the Philadelphia 76ers is the other narrative causing quite a stir in the league. Despite the seemingly irreparable relationship between Harden and the Sixers, the team's president, Daryl Morey, is known for his patience and unwillingness to settle for less than what he perceives to be an optimal deal.
The Sixers have enough talent on their roster, boasting names like Joel Embiid, Tyrese Maxey, and Tobias Harris to keep them competitive while they navigate the Harden situation. A potential trade might not happen as swiftly as many might expect, especially considering Morey's track record with the Ben Simmons trade saga. Be it the Los Angeles Clippers or a surprise team grappling with injuries, whoever hopes to bring Harden onto their roster will need to present a truly compelling offer.
Revised CBA Trade Regulations Set to Trigger a Wave of Deadline Transactions for Luxury Tax Threshold Teams
The upcoming 2023-24 season is set to introduce a significant shake-up in the NBA trade landscape. New regulations stemming from the revised Collective Bargaining Agreement (CBA) are expected to trigger a wave of deadline transactions, particularly among teams hovering above the luxury tax threshold. These teams, including high-spenders like the Golden State Warriors, Los Angeles Clippers, Phoenix Suns, and Milwaukee Bucks, will face unprecedented constraints in their trading abilities.
The tightened restrictions include a limited 100 percent salary match (down from the previous 125 percent, plus $100,000), inability to receive a player in return for a sign-and-trade deal, prohibition from sending out cash in trades, non-aggregation of contracts in trades, and a limit on trading a first-round pick seven years into the future. With these stringent measures in place, teams will likely scramble to make crucial moves ahead of the deadline before the full impact of these changes takes effect.
Hornets, Wizards, and Blazers Initiate Massive Player Offloading
In a surprising turn of events, the Hornets, Wizards, and Blazers are signaling a massive player offloading. The Blazers, preparing for life after Damian Lillard, are considering moving veterans like Jerami Grant and Jusuf Nurki? Their aim? To secure the coveted No. 1 overall pick. Meanwhile, the Wizards are strategically positioning themselves after trading Bradley Beal and Kristaps Porzingis. Veterans Kyle Kuzma, Tyus Jones, Danilo Gallinari, and Delon Wright are now up for grabs.
The Hornets, on the other hand, are balancing two timelines with a healthy LaMelo Ball and the return of Miles Bridges alongside experienced players like Gordon Hayward and Terry Rozier. If they find themselves outside the playoff picture, we might witness these veterans on the trading block. As these teams initiate internal overhauls, the NBA landscape will shift significantly by the season's end.
Raptors Retain Their Main Players
In a display of steadfast commitment to their core players, the Toronto Raptors have decided to retain both Pascal Siakam and O.G. Anunoby despite the financial implications this move could bring. Siakam, who has expressed his desire to stay with the Raptors, may be considering a substantial extension if he makes the All-NBA team this season.
The Toronto native has proven his worth on the court, and his loyalty to the franchise is evident. Anunoby, considered one of the NBA's top defenders, also remains a key component of the Raptors' strategy moving forward. While other teams have shown interest in Anunoby, the Raptors' refusal to part ways with him only confirms their resolve to maintain the team's core.
As the Raptors brace for a challenging season ahead, retaining Siakam and Anunoby alongside Scottie Barnes and Jakob Poeltl underscores their commitment to stability and long-term growth. It's a bold play, and only time will tell if it pays off.