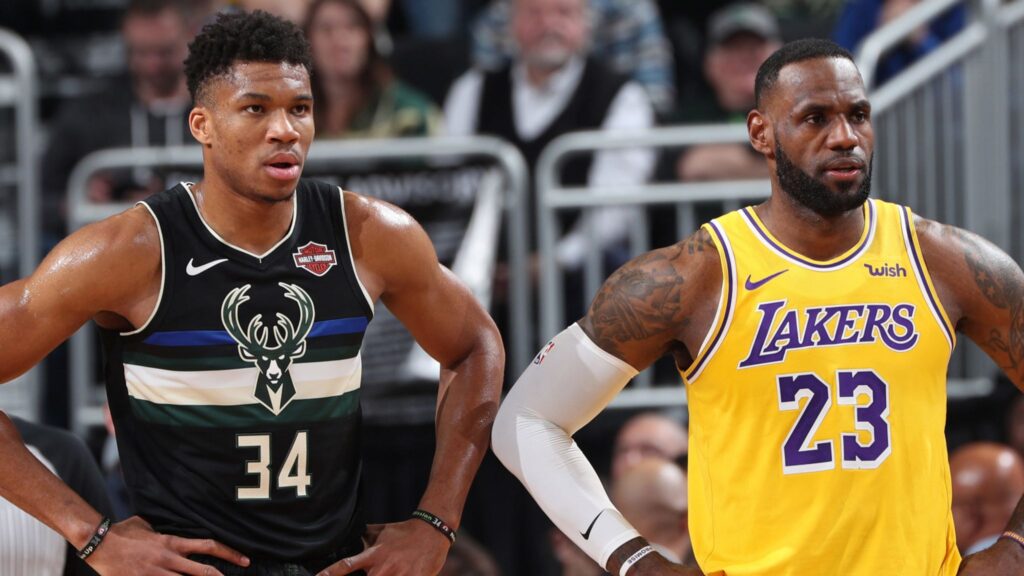 In 2023, the National Basketball Association (NBA) has grown massively in popularity thanks to more exposure and easy access. More teams are out there than ever, encouraging higher competition and enthusiasm amongst players and fans alike. With new rules facilitating bigger plays, faster scoring, and exciting dynamics, NBA games have become one of the most captivating sports experiences. Fans can easily access live games and highlights on their favorite streaming platforms any time they want, making it simple to stay up-to-date with the latest teams and match results. This ease of access contributes immensely to the growing popularity of basketball worldwide.
6 Best NBA Players In 2023:
1. LeBron James
LeBron James is an incredible asset to the National Basketball Association. He has consistently been one of the biggest names in the sport and arguably one of its top players since entering the league in 2003.
In recent years, he seems to be getting better with age, appearing every season with skill, consistency, and determination that few others can match. With no signs of slowing down as he approaches his late 30s, it looks like we'll be able to look forward to witnessing the great LeBron James for at least another two years in 2023.
This will be a great chance for fans worldwide, who have grown accustomed to seeing him on their television screens each season for almost two decades now, to continue cheering him on.
2. Stephen Curry
Stephen Curry is expected to continue to be a significant fixture in the NBA for years to come. He has succeeded incredibly since joining the league in 2009, including 3 NBA championships and the unanimous MVP award. His skillful shooting abilities and agility on the court have made him a fan favorite and highly respected by fellow players in the league.
He continues reinventing his game, aiming to challenge himself at increasingly higher levels. With over a decade of experience now, it's safe to assume that by 2023 we will still see Stephen Curry playing amongst fellow pros as he demonstrates why he is one of the greatest three-point shooters ever.
3. Kawhi Leonard
Kawhi Leonard is a name that has become synonymous with basketball in the last few years. After becoming the youngest player to win NBA Championship Finals MVP in 2014, Kawhi propelled himself into the spotlight with his game-winning shot against the Philadelphia 76ers in 2019.
With his astonishing success as a three-time NBA Champion, it isn't surprising that there is speculation that Kawhi will remain one of the top players in the league for some time. As of now, experts agree that he will still be playing at an elite level come 2023. While no one can predict how long he will remain at his peak, it is certain that Kawhi's influence on NBA basketball will continue far beyond his playing career.
He has already cemented himself as an inspirational figure for inspiring generations of young and old basketball players. His excellence on and off the court will help pave the way for a bright future for many fans to enjoy basketball for years to come.
4. Giannis Antetokounmpo
It's almost certain that basketball fans will be able to marvel at Giannis Antetokounmpo's skills on the court for many years to come. The Greek Freak, as he is affectionately known, has already accomplished a great deal in his young career and is only 26 years old.
Over the past few years, he has earned back-to-back MVP titles and become the first player in NBA history to lead the league in both points and assists per game during a single season. With all these accolades, it can be assumed that NBA audiences can still watch Giannis at work in 2023.
He will continue to provide moments of awe for spectators with his extraordinary combination of size and athleticism, proving incredibly dominant on lanes and around the rim with powerful dunks and layups.
5. Anthony Davis
Anthony Davis' future in the NBA looks bright, with many accolades and awards. He has been named to seven All-Star teams, won the 2019 NBA championship, and has been named to six All-NBA teams.
He currently holds averages of 24 points, 10 rebounds, and two blocks per game, making him one of the most dominant players in the league. In the next few years, fans can look forward to seeing Anthony Davis continue to impact the court as he strives to take his team further and win more titles.
With an impressive track record of success and plenty of motivation behind him, it's likely in 2023; we'll still see Anthony Davis dazzling crowds with his extraordinary athleticism and leadership qualities on the hardwood.
6. Damian Lillard
Damian Lillard has always been a trailblazer in the NBA, which is why it is no surprise that he will still be playing in 2023. A leader on the court, Lillard produces electrifying plays and leads his team in scoring regularly.
His stellar career has seen him rise to one of the most respected players in the league, and it shows no sign of slowing down. With admirable dedication, incredible skill, and an undeniable passion for basketball, we can expect to see Lillard remain a fan favorite for years.
What Is The Diet That NBA Players Follow
NBA players typically follow a diet that emphasizes lean proteins like fish, chicken, and turkey, as well as plenty of fresh fruits and vegetables. Grains like brown rice and quinoa provide energy for long training days during the season.
Hydration is also essential for the professional basketball player; athletes must drink plenty of water to keep their bodies performing at peak efficiency throughout their games and practices. Special attention must also be given to recovery nutrition, with athletes taking in fluids, carbohydrates, healthy fats, and protein within 30 minutes after a workout or game.
Moreover, they might also use THC Vape at TR? House for staying motivated and for increased focus. Overall, an NBA player's diet should consist of nutrient-dense foods low in saturated fat and refined sugars, all while providing adequate fuel for daily high-performance workouts.
Summing It Up
As we look to the future of basketball in 2023, there is no doubt that the NBA landscape will be filled with more talent and a higher level of play than ever before. The league has already seen an influx of young stars and new teams emerge over the past few years, and now they're gearing up for a potentially historic season ahead.