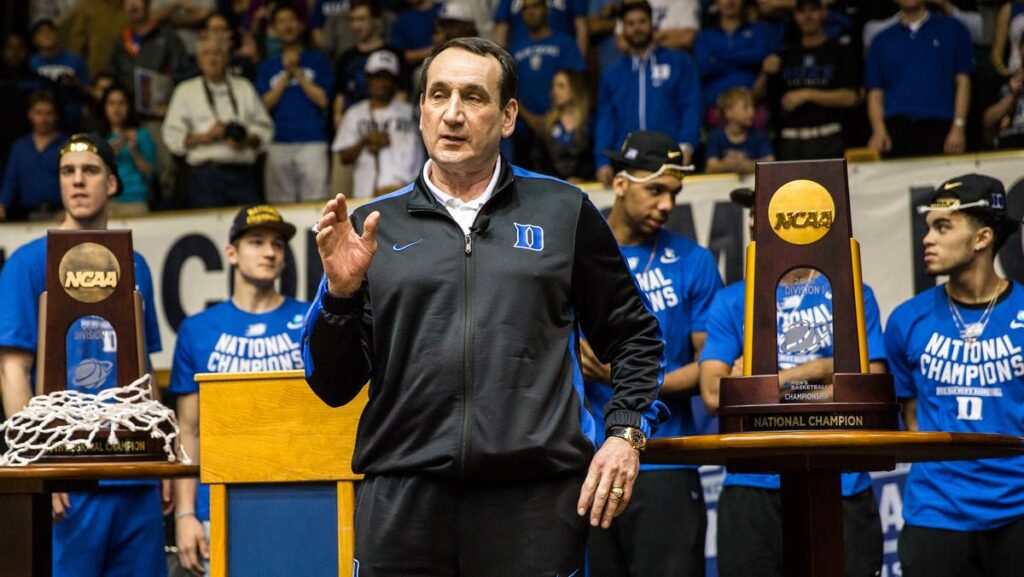 Everyone is talking about Duke these days. Not only because Duke has made the Final Four for the 13th time in Coach K's illustrious career, not only because they are vying for the 6th National Championship of Coach K's career, but mainly because all of this is being done in what is Coach Mike Krzyzewski's last season as a basketball coach heading into retirement.
Could there be anything more dramatic or emotional in College Sports than what Duke has done already to get to this point in the name of the beloved Coach K. Well Betway.com recently had the pleasure of sitting down with Christian Laettner, 2x National Champion from the Coach K era, to talk about what it all means to him and to Duke.
To give you a flavor of how good this interview is in the context of what is going on right now in College Basketball and the 2022 National Championship Tournament:
What would qualify as a good ending to Coach K's career?

I hope they do really well in the tournament because they didn't end the regular season with a victory against Carolina at home, and they didn't end with an ACC championship.

A good ending, I think, would be at least making it to the Final Four. Hopefully then every Duke fan would be content that they sent Coach K off on kind of a winning note. Obviously winning it all would be the greatest gift for him, but they would have to play really, really good basketball six games in a row.

Do you have a favorite memory from your time with Coach K?

I can't pick out one thing. All I can say is that every day of the four-and-a-half years I was around him and having him coach me, it was just the greatest time.

I loved everything he did. I loved when he was hard on us, I loved when he took us in the locker room and yelled at every one of us, I loved when he invited us over to his house for dinner and his wife made chocolate chip cookies. Even if we didn't win two championships or go to four Final Fours when I was there, I still would have loved every second of it.
But the interview doesn't stop there. Head over to check out the Q&A as Laettner goes on to discuss how he was recruited, how he thinks Duke will fare in the post Coach K era, and more CBB topics, such as the Fab Five!
But we want to hear what your thoughts are on Duke. Do you think they can pull it off now that they are in the Final Four? UNC has looked good so far and although they are the lowest seed still left in the tourament, they certainly don't appear to be a true 8 seed. While Duke is a 2 seed in the tournament, we can't forget that as the only 1 seed left, Kansas has been looking like they could walk right through the final four.
Can the inspiration and emotion of trying to 'do it for Coach K' get this Duke squad to play like a the favorite for just two more games to get that CHIP?