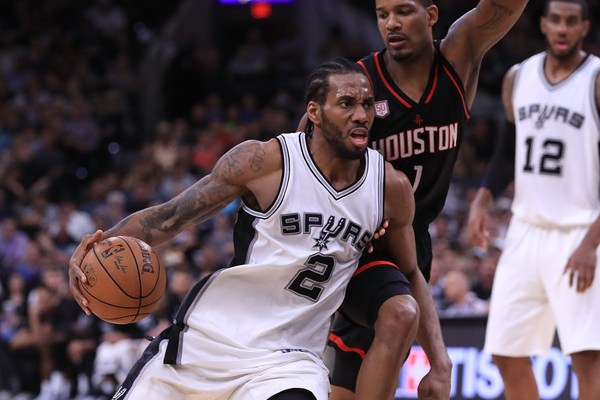 Kawhi Leonard has yet to play this season while recovering from a quad injury, but he might be ready to make his 2017-18 debut very soon.
Or maybe not.
San Antonio Spurs head coach Gregg Popovich doesn't really know, nor does he seem particularly concerned with attaching any sort of timetable to the All-Star's return, per the San Antonio Express-News' Tom Osborn:
"Sure, anything is possible," Popovich said after shootaround Wednesday morning. "But I don't spend a lot of time thinking about when somebody is going to come back. Because they are going to come back when they are ready, when the docs say they are ready. So when that happens, that happens."
Okay then.
In Popovich's defense, the Spurs always play things close to the vest. More than that, they don't have any reason to rush Leonard back into the fold. Sure, he's profiled as one of this year's MVP favorites. In case you haven't noticed, though, San Antonio is one of only three undefeated teams in the league right now.
Leonard is no doubt integral to the Spurs' offensive game plan—especially when Tony Parker is out nursing a quad injury of his own. But San Antonio has the defensive side on lock, LaMarcus Aldridge is playing like an All-Star, Dejounte Murray is performing beyond his years, and the starting lineup is outscoring opponents by almost 12 points per 100 possessions, according to NBA.com.
Which brings me to my next point: Are we sure the Spurs just aren't getting Leonard some extended rest in a way that won't get them fined?
"can't get fined for resting Kawhi if we just don't play him til April" pic.twitter.com/oPld1oPqm5

— Dan Favale (@danfavale) October 26, 2017
Definitely not. Well, probably not. And even if they were, the NBA has no reason to try getting to the bottom of it.
After all, if the Spurs are this good without Leonard, think of how dominant they'll be with him. If anything, they're doing the NBA's competitive landscape a massive favor.