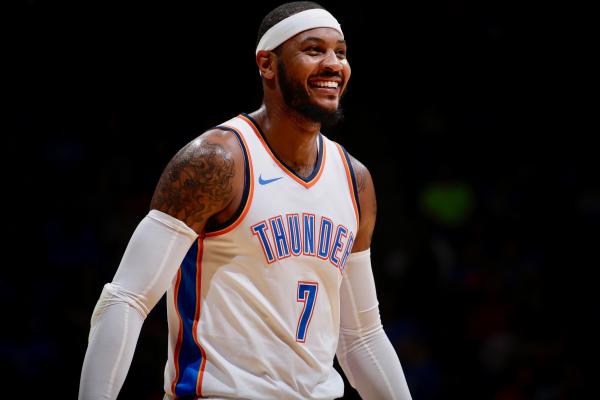 Carmelo Anthony is no longer with the New York Knicks, but his former teammates have not forgotten about him. And how could they? After all, he was New York's Teammate of the Year in 2016-17.
Yup, true story. Here's the lowdown from ESPN.com's Ian Begley, with some fire sentiments from Lance Thomas:
 A few months before Carmelo Anthony was traded to Oklahoma City, the New York Knicks — along with every other team in the league — were asked by the players' union to vote for the 2017 Teammate of the Year Award.

New York's pick? Yup, you guessed it: Melo, who just so happens to open the season against his former team Thursday night in Oklahoma City. …

"He kept us together," Lance Thomassaid earlier this month. "It's something that you wouldn't know if you weren't in there with us. It didn't ever get [discussed by media and fans]. … But no matter what was going on, he was smiling, he was keeping all of that stuff outside of the locker room."
Kristaps Porzingis also joined in on the Melo-loving by worshiping how the veteran handled all the negative and controversial and outright annoying attention. And thus, we can now conclude what we always should've have known:
Carmelo. Anthony. Was. Not. The. Problem. In. New. York.
No, that honor belongs to Phil Jackson, and owner James Dolan, and the very slapdash essence that is the Knicks. They have screwed themselves over at every turn. Even the Melo trade itself is on them. People criticize Anthony for forcing his way to New York, but it shouldn't be up to a player who doesn't wear your colors to consider a team's best interests. The Knicks didn't understand the value of process and continuity then, and they don't get it now. Sure, they fired Jackson. But then they gave Time Hardaway Jr. $71.6 million when they're supposed to be in the early stages of  a rebuild. The way they conduct business is maddening.
Was Anthony the solution? Not by a long shot. He didn't help his own case for a while after arriving in New York. But the Knicks' current mess is in no way his fault. Not even slightly. It was clear the rest of the locker room respected him, not just because of his resume, but for how he actually engaged with them. He deserves some recognition for doing that much at a time when he could have completely checked out on everything pertaining to orange and blue.