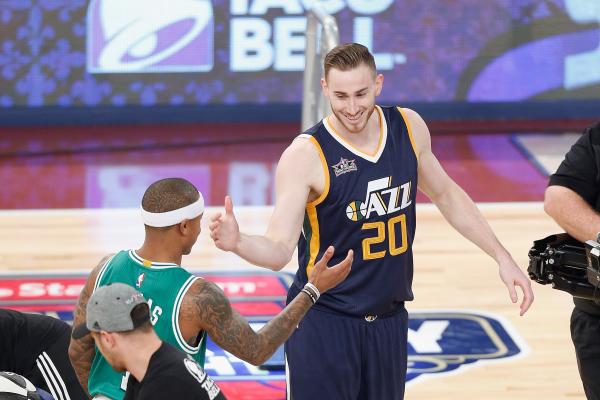 The Utah Jazz have their work cut out for them if they want to re-sign free agent Gordon Hayward.
The Miami Heat are 'loading up' to pursue him, and the Boston Celtics have always loomed as a threat. Except, according to NBA insider Jordan Schultz, Beantown might actually be a more serious suitor than most anticipate:
#Celtics slight favorite to land forward Gordon Hayward, per sources. Appeal is to play for a contender, as well as Brad Stevens.

— Jordan Schultz (@Schultz_Report) June 13, 2017
This is far from ridiculous. It won't be hard, in fact, to find Jazz fans who believe it. Hayward played for Celtics head coach Brad Stevens at Butler, and there is a level of appeal attached to Boston's situation no other suitor, including Miami and Utah, can match.
The Celtics have the ability to sign Hayward without taking a stick of dynamite to their core. And from there, if they want, they can turn around and still make a highly lucrative trade offer for Jimmy Butler or Paul George. If they decide against that, well, then they're still left with Jaylen Brown, this year's No. 1 pick, next year's Brooklyn Nets selection and a 53-win nucleus that just added an All-Star forward in Hayward.
That's not a bad place to be—not even in an NBA dominated by the Cleveland Cavaliers and Golden State Warriors. Hayward knows this. So even if he ends up staying with the Jazz, which remains a legit possibility, you better believe the Celtics will have checked in has his second choice.