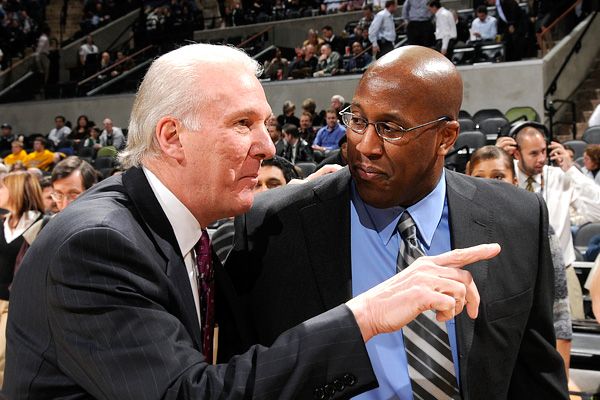 Would Mike Brown be an assistant coach-turned-interim-head coach with the Golden State Warriors without Gregg Popovich?
The short answer: Nope.
Here's Anthony Slater of the Bay Area New Group with the extended explanation:
A year ago around this time, Steve Kerr was in the market for a new lead assistant and Mike Brown was a target. But before Kerr called Brown, he called Gregg Popovich.

Brown was hanging around the Spurs some. Popovich was the mutual connection. Among Kerr's questions for Popovich: Is Brown really ready to dive back into coaching full-time?

"Pop got off the phone and told me Steve may call," Brown said. "Then he told me: 'If he does and he offers you the job, you better take it! You've been out long enough.'"
Make sure to check out the entire feature, because it's pretty wild. Popovich didn't just serve as an intermediary between Steve Kerr and Brown; he was the vessel through which Brown was able to return to basketball, a year after being fired a second time by the Cleveland Cavaliers, at all.
Pop allowed Brown unfettered access to the San Antonio Spurs during the 2015-16 season. The latter credits this, along with his exposure to Kerr and the Warriors' overall culture, for easing him into a new, more balanced coaching style.
Now he's showcasing this more measured approach on the biggest stage. Kerr continues to miss games while dealing with back problems. (He was, however, on-site for the Warriors' come-from-behind victory over the Spurs on Sunday.) It's unclear if he'll return to the sidelines at all before the playoffs are over. Brown is suddenly tasked with leading perhaps the best team in NBA history. And he's doing just fine.
The Warriors are 7-0 in the postseason. They caught a break in Game 1 of the Western Conference Finals, with Kawhi Leonard re-aggravating an ankle injury midway through the third quarter that aided the team's comeback attempts. But the Warriors have fallen on some bad luck of their own, from the indefinite absence of Kerr, to Kevin Durant's missed games against the Portland Trail Blazers in Round 1, to Andre Iguodala's latest knee soreness.
Yes, it's easier to extract success from a team assembled around Hall-of-Fame talent. But this is still a test for Brown, to see how he manages egos and replaces Kerr and coaches when the stakes are the highest.
The ultimate test comes later, if and when he's offered another head-coaching position elsewhere. That's when the real Mike Brown will stand up—though, all indications are we're witnessing the real one right now.