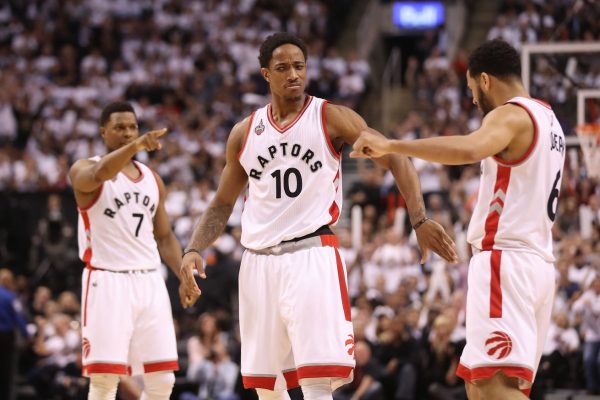 You'd think DeMar DeRozan wouldn't carry a huge chip on his shoulder after helping the Toronto Raptors make an Eastern Conference Finals appearance and signing a near-max deal.
Then again, maybe you wouldn't think that.
Because that chip is still there.
As he told NBA.com's David Aldridge:
Me: Y'all are always under the radar because of where you play, but do you feel especially unwatched this season?

DD: Yeah, for sure, especially what we accomplished last year, showing all we did wasn't a fluke. We went six games with the NBA champions. We won a franchise record in games. We accomplished so much. And it seems we still don't get our just due, like it was an accident. We've been getting better every single year. And I think that's been our motivation every time we go out there and play, no matter who we play against. We are a team that should be respected like all the other top teams in the league.
This is a fair take. The Raptors once again have the second-best record in the East and are, as of now, on pace to post the best adjusted offensive rating in league history, according to NBA Math. They have lost only eight games thus far this season—three of which have come against the reigning-champion Cleveland Cavaliers.
And there's the problem.
The gap between the Cavaliers and everyone else in the East, including the Raptors, is so large that it inherently drives down the appeal of all potential rivals. The Raptors have also been good for a while, routinely setting new franchise records for wins in a single season.
And steady greatness is always, in some way, taken for granted.
DeRozan should take that ignorance as a compliment.