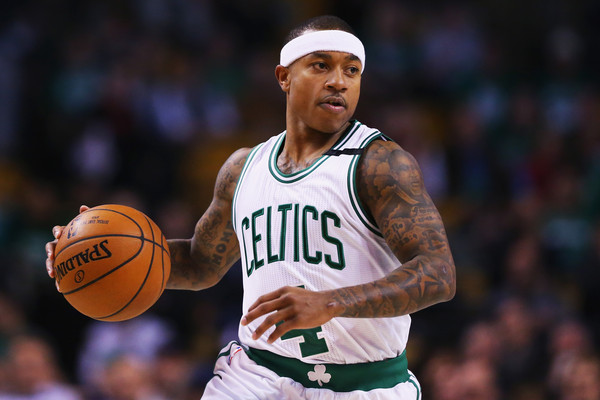 Evan Turner's absence is being felt by the Boston Celtics.
Few worried about Turner leaving Beantown to join the Portland Trail Blazers on a four-year, $70 million deal. I entertained the idea that the Celtics would struggle, they signed Al Horford, the second-best free agent of the 2017 class. They were clearly going to be fine.
Except they are not fine. The Celtics are struggling to play .500 basketball, and while their offense is now one of the three-most efficient in the league, their top-five defense from last season is currently dead last in points allowed per 100 possessions.
Isaiah Thomas admitted that injuries haven't helped Boston's cause. But he also cited Turner's departure for the team's regression, per Mass Live's Jay King:
"The wing position in this league, if you're missing that, then it's going to be tough for you, especially (because) we don't have Evan Turner," Thomas said. "So it's like, we're not just missing Jae, we're missing Evan, who was a big part of what we've done. Now we've got a rookie (Jaylen Brown) in his place that, things are coming fast for him, he's trying to figure out on the fly as well, and, at the same time, play at a high level. So it's tough but we gotta just sustain or whatever we need to while Jae is out. Help rook at the things he needs to get better at and go from there. But all the things that we're getting beat at are not because certain guys are out. It's because we're not playing with our heart and we're not giving it our all for whatever reason."
Turner probably misses the Celtics, too. He has yet to carve out a consistent role for himself in Portland. He's not seeing too many minutes, and his function when on the court isn't entirely clear.
As for the Celtics, they could use his ball-handling and switchy defense. He allowed Thomas to play off the ball more, since head coach Brad Stevens used him as a pseudo point guard. That responsibility has now fallen mostly to Marcus Smart and Terry Rozier. Turner could also pretty much defense any position other than center. Horford is a solid paint-policer, the you're bound to lose something when you break up a hyper-versatile like Jae Crowder, Avery Bradley, Smart and Turner.
Still, it's early. Beyond early. More than that, Horford, Crowder and Smart have yet to be healthy at the same time. There's no need to hit the "We miss Evan Turner beyond repair" button until a full-strength Celtics squad proves it's just as defensively challenged as this half-hobbled one.