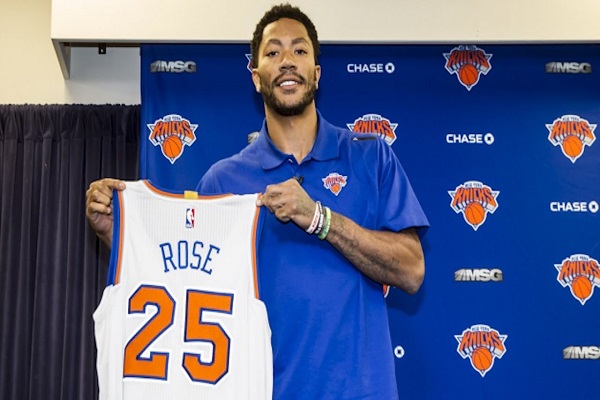 So, um, Carmelo Anthony is ready for Derrick Rose to return to the New York Knicks.
The team's new point guard has been in Los Angeles for a civil sexual trial that began on October 4. Rose and two of his friends are accused of raping a former girlfriend of Rose's. And while, quite clearly, there are issues here that are far bigger than basketball, Rose has missed two of the Knicks' preseason games, and the team is now considering sending a coach out to Los Angles to work with him, since it didn't expect the trial to take this long, per Al Iannazzone of Newsday.
You can count Melo among those who want Rose back with the team:
"I think it makes it harder ," Carmelo Anthony said. "But at the same time for him, it should excite him to see kind of what we're doing without those two guys so far. So I'm pretty sure if I was him, I'd be calling Derrick and telling him, 'Hurry up. Figure it out and hurry up back.' Just because the way the team is starting to jell together and come together, the camaraderie we're starting to create with one another, we don't want him missing out on that."
This really isn't a situation where Rose can just "figure it out and hurry up back"—unless, of course, Melo is imploring his teammate to settle the case. Then his comments would make some sense.
Still, when you follow the case, and you realize what it's all about, and you read about all the explicit testimonies that are being given, it's tough to comprehend that basketball remains such a top priority. It's Rose's job, and his coworkers have the right to want the entire band together before the regular season tips off, but again, it's just weird that his absence can be verbally boiled down to "figure it out and hurry up back," as if this case isn't so much more than a mild nuisance to Rose and his team.