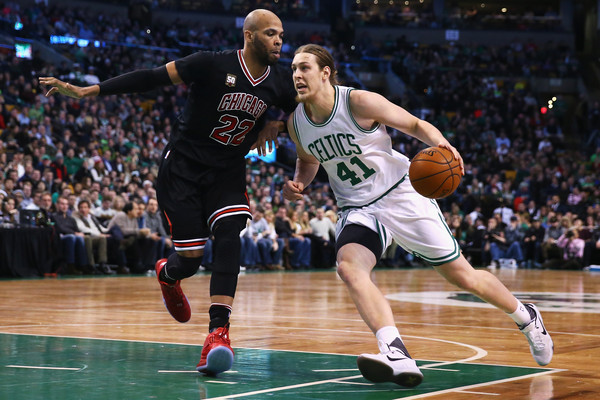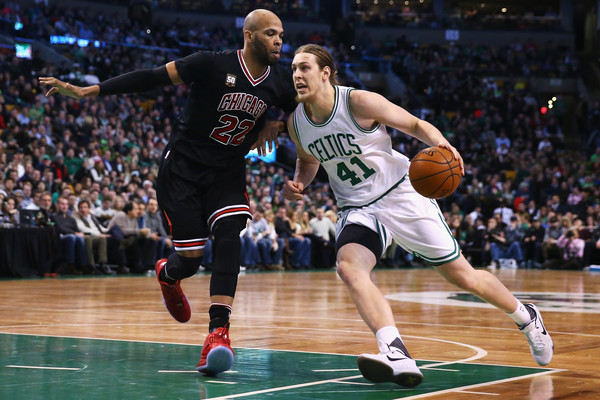 The Boston Celtics bowed out of their first-round playoff matchup with the Atlanta Hawks for many reasons. And the status of Kelly Olynyk was among the biggest ones.
Yes, Jae Crowder wasn't 100 percent. And sure, Avery Bradley's absence killed the Celtics' spacing. But Olynyk, when healthy, is Boston's second-best two-way player, someone who stretches the floor with above-average shooting while providing understated rim protection. He missed two games in the series and never played more than 12 when he was active. If he's healthy, like fully healthy, that series plays out differently, even if the Celtics don't actually win.
But his right shoulder got the best of him. And it's still getting the best of him, to the point where surgery has become inevitable, per CSNNE.com's A. Sherrod Blakely:
After consulting with a number of doctors both within the Celtics organization and outside of it, it has become a matter of when – not if – Kelly Olynyk will have to have surgery on his right shoulder.

But Kelly Olynyk isn't quite ready to commit to having it surgically repaired this summer, a summer in which the Canadian National team for which he is a key member, is still in the process of trying to qualify for the summer Olympics in Rio.

"If I rest it, I would definitely partake in the Olympic (qualifying tournament)," Olynyk told CSN at a fundraising event for Horizons for Homeless on Sunday. "That would be the reason to not get surgery at this point. If you rest it, it'll get better but never solve the problem. That's what we're looking at."

…

"The doctors are saying it's kind of inevitable," Olynyk said.
Though repping Canada is important to Olynyk, getting this addressed immediately seems like a no-brainer.
Surgery cannot be avoided. And while Olynyk may not be risking additional damage by resting only to play for the Canadian national team, he is impacting when he could be available for the Celtics next season. And as the club that's paying him, they should be his top priority, cruel as it sounds.
Not to mention that Olynyk may be more important than ever to the Celtics next season. We don't know who they'll draft or sign in free agency. And we don't know whether one or both of Jared Sullinger (restricted free agent) or Amir Johnson (non-guaranteed) will be back, either. They need him to maximize their full potential no matter what, and as someone who will be a restricted free agent in 2017 himself, he should want to be as healthy as possible, as soon as possible, and not a moment later.