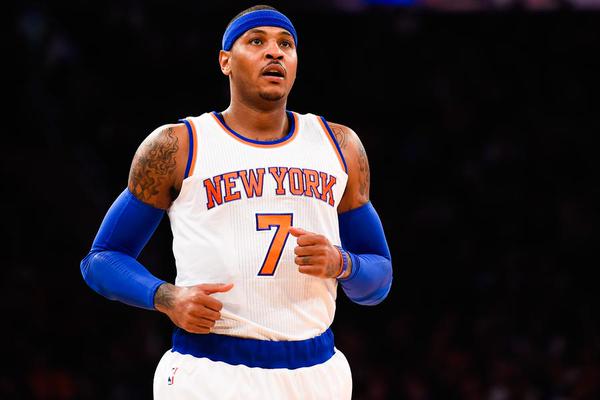 Given the frequency with which Carmelo Anthony's name is appearing in trade speculation, you'd think the NBA's trade deadline wasn't yet in the rear view.
But it is, so Melo cannot be moved this season, and yet the conjecture is unending.
Should the New York Knicks move Anthony? Does he want out? For which team is he willing to wave his no-trade clause? The Los Angeles Clipper? Chicago Bulls? Houston Rockets? Cleveland Cavaliers? Did he really turn down the opportunity to join the Boston Celtics?
So many storylines, so little bandwidth. It's enough to rattle anyone.
Just not Melo, apparently.
Per Newsday's Al Iannazzone:
Carmelo Anthony hasn't had much to smile about professionally this season, but something that makes him chuckle is seeing his name linked to the Clippers, Cavaliers and other teams.

"I laugh it off," he said. "Just laugh it off. People always try to make scenarios, and situations, but nothing has happened."
Pardon my French, but I'm going to call bullshit here. The rumors and speculation have hit home for Melo at some point. He's human, after all.
Still, it's easy to brush off even the most serious scuttlebutt when you have that no-trade clause. Melo has given himself veto power, and so long as he wants to remain in New York, he can remain in New York.
Now, if the Knicks fail to land another marquee name or two on the free agent market, then yes, this a subject to broach once again. But we're a ways off from July, and it's pointless to talk about where he could end up before the Knicks can even legally deal him.
To that end, this entire line of conversation may be worthless. Anthony's veto power limits the Knicks' potential trading partners, and any team he's interesting in playing for probably won't be able to offer New York much in return.
Thus, the dilemma.
Well that, and the fact Melo cannot be traded, even if he's willing to be traded, for the next few months.