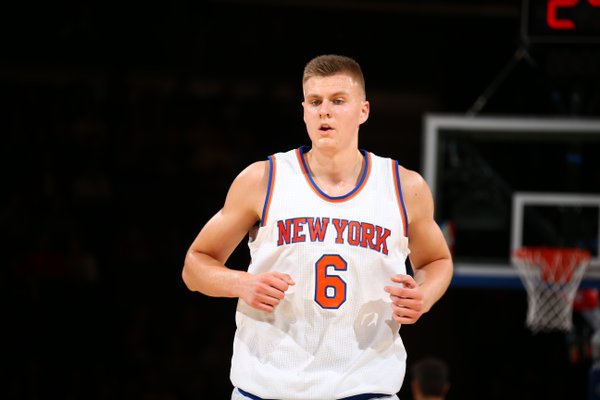 Kristaps Porzingis has a decision to make.
Probably.
From the New York Post's Marc Berman:
Kristaps Porzingis told The Post he will have a big decision on his hands soon. Three days ago, the Latvian National Team was chosen to compete in the Olympic qualifier in Belgrade, Serbia, from July 4-10 with a chance to make it to the Summer Games in Rio.

The 7-foot-3 Latvian, who finished with seven points and seven rebounds in the Knicks' 102-84 win over the Suns on Friday night, said he would love to play. Latvia is deep in his heart, but he also knows the timing isn't great. The Knicks still may want him to play in another Las Vegas summer league and the club begins practice during that time frame. Summer league, however, could be deemed past his level coming off his phenomenal rookie season.
It's a weird situation.
On the one hand, Porzingis could use some extra exposure to the Knicks' system. Summer League teams typically run sets that are similar to their parent organization.
On the other hand, if Latvia makes it through the Olympics qualifier, Porzingis will have the chance to match up against some seasoned pros, many of them from the NBA, once he gets to Rio. Potentially playing Team USA would be a valuable learning experience in and of itself, forcing Porzingis to line up against one All-Star after another.
All of this, of course, may not matter.
Porzingis is the best rookie in the NBA not named Karl-Anthony Towns, and even if the Knicks want him to play in Las Vegas, they'll probably realize that facing off against inexperienced youngsters and fringe roster guys is already beneath him.