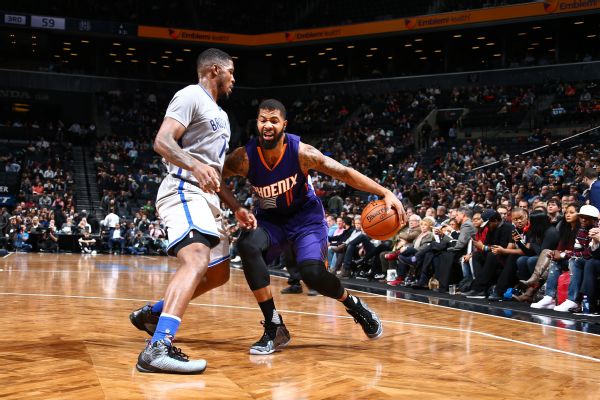 Sweet mother of all that's ridiculous.
Markieff Morris has seemed like a lock to be traded at some point this season for a while. The relationship between himself and the Phoenix Suns imploded once the team dealt his brother, Marcus, to the Detroit Pistons, and the Suns have re-entered NBA purgatory after losing Eric Bledsoe for the year and realizing they're not even close to being a playoff-caliber team.
Head coach Jeff Hornacek has started playing Morris again, following his string of DNPs, but only barely. He logged just 12 minutes in a Jan. 19 loss to the Indiana Pacers and didn't play at all in Phoenix's loss to the San Antonio Spurs on Thursday.
Maybe this means the Suns are completely and utterly done with Morris.
Or, as Steve Kyler of Basketball Insiders explained, maybe not:
Sources close to the Suns say that they are not going to make a bad deal just to force Morris off the roster, but as the deadline gets closer there is an increasing sense around the league that Phoenix might blink on a deal just to remove the problem from their equation.
Markieff Morris had officially returned to the Suns' starting lineup at Kyler's writing, so perhaps the status quo has, again, changed.
Either way, even with Morris never earning more than $8.6 million in a single season over the life of his current deal, the Suns cannot afford to keep up this charade any longer. He isn't going to experience a renaissance under their care, if he experiences one at all, and if they can flip him without taking back wholly unwanted salary, they should consider that a small victory and, most importantly, an opportunity to finally, mercifully move forward.