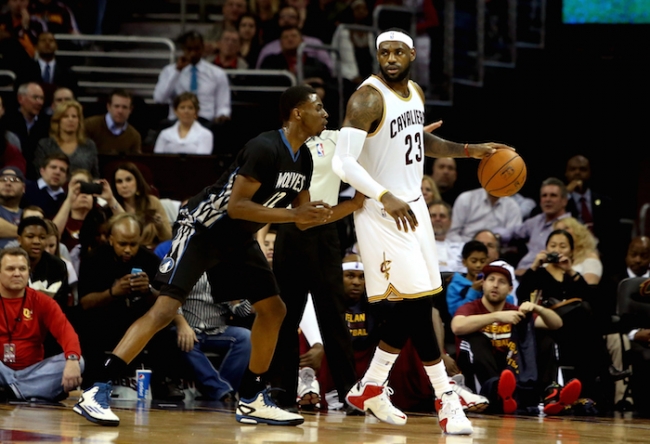 LeBron James believes that Andrew Wiggins is better off with the Minnesota Timberwolves than he ever would have been with the Cleveland Cavaliers.
Or something like that.
James and Wiggins were almost teammates. Shoot, they kind of were teammates. Wiggins was drafted by the Cavaliers in 2014 before James re-signed with the team. Only after James' return did the Cavaliers decide to eschew patience and process for immediate contention, flipping Wiggins in a trade for Kevin Love.
It's been more than a year since the trigger was pulled on that deal, and, at least with regard to Minnesota and Cleveland, there are no losers on either side. LeBron nabbed the second superstar running mate he craved, while Andrew Wiggins snagged the freedom to develop outside the shadow of established superstars. And LeBron thinks that's good for Wiggins.
But not as good as being exposed to Kevin Garnett on a daily basis. As he told Yahoo Sports' Michael Lee:
"I think the best thing that happened to him was him getting KG," James told Yahoo. "KG has been through it, seen it all and he can light that fire."
One of the biggest knocks on Wiggins, dating back to his lone year at Kansas, has been a seeming inability to take over games. He plays aggressively at times, attacking and rocking the rims with the best of them, but few people think he possesses the killer instinct that has buttressed a claim to fame for a bunch of players.
True or not, Andrew Wiggins' competitive edge only stands to strengthen this season and next while playing alongside Garnett. The Timberwolves are very obviously paying him to be a mentor, and he can often be found talking to Minnesota's youngsters before, during and after games. The perspective he brings, as a champion, gritty defender and fearless trash-talker, will help Wiggins build a different kind of character without changing the core of who he is—which, for the both the Timberwolves and Wiggins, is just awesome.
Because, at his core, Andrew Wiggins is already a pretty damn good, albeit unpolished, ballplayer.