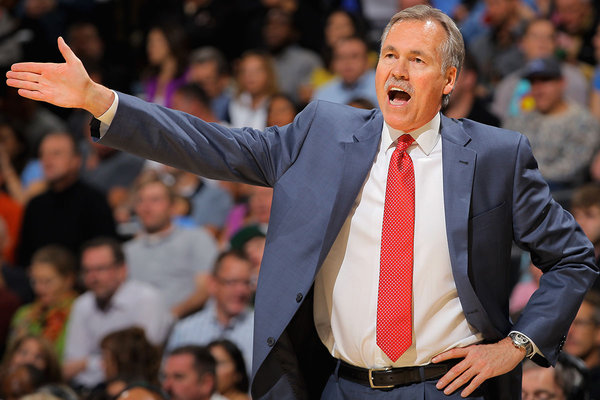 The Philadelphia 76ers' process just got a whole lot more…interesting.
Mike D'Antoni is now the associate head coach of the NBA's worst team, his first official gig since leaving the Los Angeles Lakers at the end of the 2013-14 season. His addition to the staff has been rumor-mill fodder ever since the NBA/Sixers ownership installed Jerry Colangelo to, er, assist general manager Sam Hinkie with Philly's rebuild, and Keith Pompey of the Philadelphia Inquirer brought word early Friday morning that D'Antoni's arrival is now a done deal:
Veteran NBA coach Mike D'Antoni is now the associate head coach of the 76ers, two league sources said Thursday night.

D'Antoni, 64, was spotted when he arrived at Philadelphia International Airport. He had been in talks with the Sixers to join their coaching staff.

D'Antoni has 12 years of head coaching experience with the Denver Nuggets, Phoenix Suns, Knicks, and Los Angeles Lakers. He also is someone the new chairman of basketball operations, Jerry Colangelo, trusts to be his eyes and ears when Colangelo is more than 2,000 miles away in Phoenix.

The two have a relationship dating back to their days with the Suns in the early 2000s. Colangelo is the former Suns owner and was a longtime cornerstone of the franchise. D'Antoni went 253-156 in five seasons as Suns coach. They also worked together on the USA Basketball staff, where Colangelo served as the chairman.
D'Antoni should be able to provide offensive structure in areas that Brett Brown cannot. Brown is a phenomenal defensive coach and adequate offensive mind, but D'Antoni's pace-and-space tenets helped pave the way for the high-powered attacks that we see today.
He typically extracts the most possible production out of his point guards, and the Sixers have been struggling to install a legitimate starting floor general ever since they traded Jrue Holiday to the New Orleans Pelicans in 2012.
The Sixers offense is bad, and D'Antoni alone won't fix everything. But in addition to helping Philly's guards, he can be a pick-and-roll tutor for Jahlil Okafor and Nerlens Noel (and eventually Joel Embiid), neither of whom is particularly schooled at finding paths to the basket off screens.
What I'm trying to say is: #NBAVote Kendall Marshall.