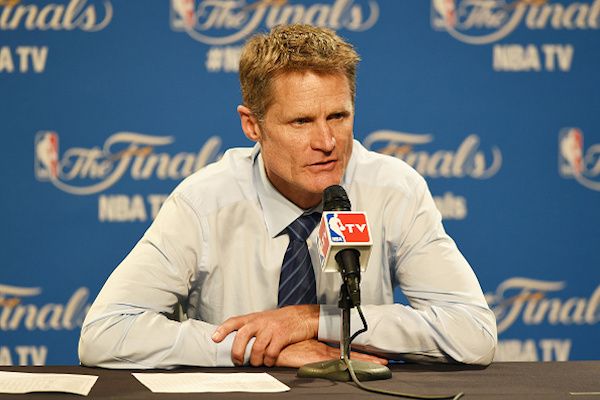 Golden State Warriors Steve Kerr remains out of commission as he recovers from two back surgeries, and he may not be returning anytime soon.
This, mind you, doesn't seem to be reason enough to panic. The Warriors are still undefeated, still historically good, still destroying the concept of championship fatigue. Kerr has a great relationship with his players, and his absence isn't ideal, especially after the team lost offensive architect Alvin Gentry to the New Orleans Pelicans, but they're not letting his truancy effect their play. And that's huge.
Still, not having Kerr is an obstacle, one the Warriors will have to continue climbing, since it sounds like Kerr won't be back for a while. Though he was in attendance for Golden State's Wednesday night slugfest against the Los Angeles Clippers, he is not yet ready for an official return to the sidelines. And as one Warriors player told ESPN's J.A. Adande, who then relayed said information during The Worldwide Leader's broadcast, it'll be a while before Kerr reaches that point.
Here's Adande's sideline report in full, courtesy of CBS Sports' James Herbert:
We had a chance to catch up with coach Kerr before the game and he still seemed very fatigued, told us he's dealing with headaches, is still heavily medicated. Yet [he] did get a chance to talk to the team after its 50-point victory over the Memphis Grizzlies the other day. He joked with them that, 'It's obvious you guys need me.' Now, they took that as a good sign his sense of humor was back. But he's still far away. In fact, one player told me they wouldn't be surprised if it takes him until after the All-Star break to return. And they're prepared to go that long without him.
Again, that the Warriors are prepared for Kerr's protracted stay away from the sidelines is a great thing, the importance of which cannot be overstated. They don't appear to have missed a beat since last season. You get the sense that even their narrow 112-108 win over the Clippers would have been a blowout if not for Stephen Curry being whistled for two early fouls in the first quarter. Kerr has clearly installed something, helped create something, that transcends his presence.
Which is great, because it means the focus can actually be on him getting better, and then staying healthy, rather than how his recovery relates to basketball.