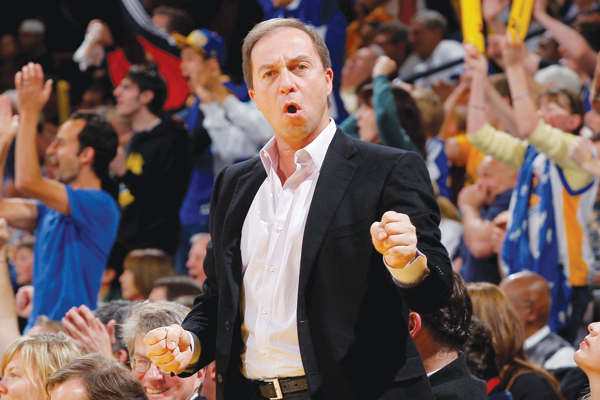 Golden State Warriors owner Joe Lacob apparently slept with the Larry O'Brien Trophy at some point after his team won the championship.
Some other stuff might have been happened, too.
We don't really know.
And it seems we're better off that way.
From Kelly E. Carter over at Haute Living:
An NBA Championship and a threesome within a few hours of one another? Life truly couldn't get any better for Golden State Warriors owner Joe Lacob on that momentous June evening when his team finished its record-breaking season in grand style with its first league title in 40 years. Ah, but this ménage à trois was hardly what you're thinking.

"I had made a promise to myself [that] I would sleep with the trophy that night," reveals Lacob, which rhymes with Jacob. "Nicole [Curran, his longtime fiancée] and I did sleep with it."

On one hand, we want to ask more questions; on the other, we don't really want to know any more than he's already shared. (Not that this animated hoops nut is going to tell us anyway.)

"I'll leave it to the imagination," he says, grinning. "We had a lot of fun with it."
Now, now, let's not get crazy.
Lacob and his fiancee, Nicole, could have just tucked it in like a baby. Maybe they dressed it up. Maybe they just took totally innocent, not-at-all-risqué pictures—selfies and usssies, mostly—of them hugging and doing nothing even remotely inappropriate to it.
It could have been anything, including the stuff you're thinking about—the same stuff that Jason Concepcion, of the now-defunct Grantland, tweeted about in excruciating detail:
you want the trophy *squeal/moaning* I want it you want it yeahhhhh are you a champion yessss do you like small ball yes daddy yusss

— ?netw3rk (@netw3rk) November 4, 2015
No, Lacob couldn't. He wouldn't.
Did he?
[cringes uncontrollably for 30 seconds or so]
I guess we'll truly never know.
No matter what, though, let's hope Lacob's comments don't lead to an onrush of tell-alls from players and coaches and managers and owners and significant others of players and coaches and managers and owners across professional sports detailing what they did, and perhaps shouldn't have done, to their team's championship trophy.
Mavs owner Mark Cuban for example did this with the trophy….eww….