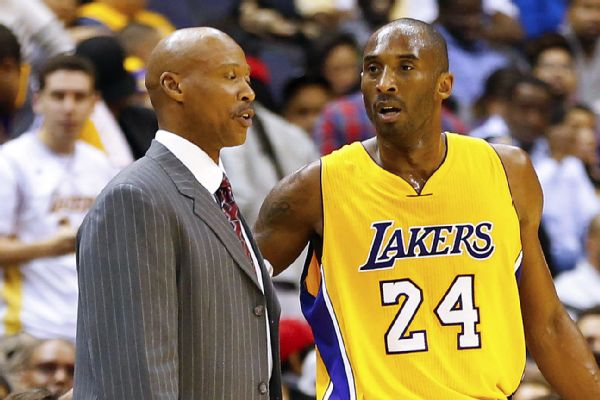 When the Los Angeles Lakers open the 2015-16 regular season against the Minnesota Timberwolves, Kobe Bryant should be in uniform and ready to play.
Should be.
Kobe suffered a calf injury in Los Angeles' preseason loss to the Sacramento Kings more than a week ago, and he hasn't been able to go at full speed since. And with opening night now only a few days out, the concern is that the Black Mamba, who has appeared in just 41 games over the last two years, won't be ready to start the season.
Lakers coach Byron Scott, for what it's worth, hasn't totally ruled out that bleak possibility. But, in the interest of giving the Purple and Gold faithful some hope, he doesn't expect that short-sighted worst-case scenario to reach fruition.
Per Mark Medina of the Los Angeles Daily News:
Byron Scott still optimistic Kobe will play in season opener. Byron said Kobe needs a minimum of 2 practices

— Mark Medina (@MarkG_Medina) October 21, 2015
Personally, I find myself torn on multiple fronts here.
First off, Kobe shouldn't go if he's not ready to go. This could very well be his last opening night, but the Lakers aren't competing for a championship this year. His main goal is to survive the season. Risking further injury during the first game would be beyond stupid.
People want to see him play, though. I get it. I do too. The game has passed Kobe's mid-range fadeaways by, but he's still a basketball icon. It's bizarre to think that only two seasons ago, in 2012-13, he was putting up crazy-ass, historically unprecedented numbers for his age. To see what he has devolved into, largely because of his health, though partly because of his play style, is sad. It would be nice to see him stay healthy and play some basketball again. Doesn't have to be exceptionally good basketball. It just has to be actual basketball on a consistent, preferably season-long basis.
On the flip side, no Kobe means more touches for the Lakers' youngsters, for the Jordan Clarks and D'Angelo Russells and Julius Randles of the roster. That's by no means a bad thing, even if it's only for one game. The Lakers are going to have a tough time balancing touches and shots among them, Kobe, Lou Williams and Nick Young all year. Anything that might make said task easier is not to be viewed as the end of the world.
All of me, though, still wants to see Kobe play, just for the hell of it. And at this point, while it sounds like that will happen, it wouldn't be a bad idea to prepare for the possibility that it won't.