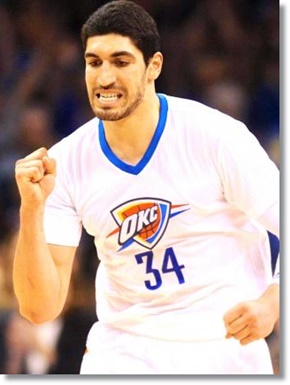 History has proved that skilled big men have been, and always will be in high demand in the NBA, as 7 foot superstars like Wilt Chamberlain, Kareem Abdul-Jabbar, and Shaquille O'Neal have dominated the sport since it's existence.
That's perhaps the reason why the OKC Thunder overpaid this offseason to secure the services of restricted free agent and former #3 overall pick Enes Kanter for a whopping $70 million, keeping the former University of Kentucky center property of the Thunder through the '19-'20 season.
After being acquired in a trade with the Utah Jazz in February, Kanter was spectacular averaging 18.7 points and 11 boards in 26 games in OKC as he and Russell Westbrook tried their hardest to keep the Thunder in the Western Conference Playoff hunt with former NBA MVP Kevin Durant still out due to foot surgery.
Ultimately OKC narrowly missed the postseason, but management was so impressed by Kanter's play over the 2nd part of the season that they matched an offer sheet made by the Portland Trailblazers for 4 years and $70 million. With the return of Durant, now being surrounded by Kanter, Westbrook, and former Defensive POY Serge Ibaka, look for OKC to be major players in the Western Conference this upcoming season.
It's well known that Kanter is a native of Turkey, which also happens to be the home of "The World's Tallest Man" Sultan Kosem, who holds the Guinness record stnading an imposing 8'3 tall.
Kosen unfortunately needs crutches to walk due to a pituitary gland problem or maybe Kanter could have convinced the Thunder to give the larger than life giant a Training Camp invite to make the club and become the NBA's tallest ever player, currently held by former shot-blocker Manute Bol, who stood 7'7.
Check out a pic of Enes Kanter being flat out dwarfed by the World's Tallest Man Sultan Kosem…..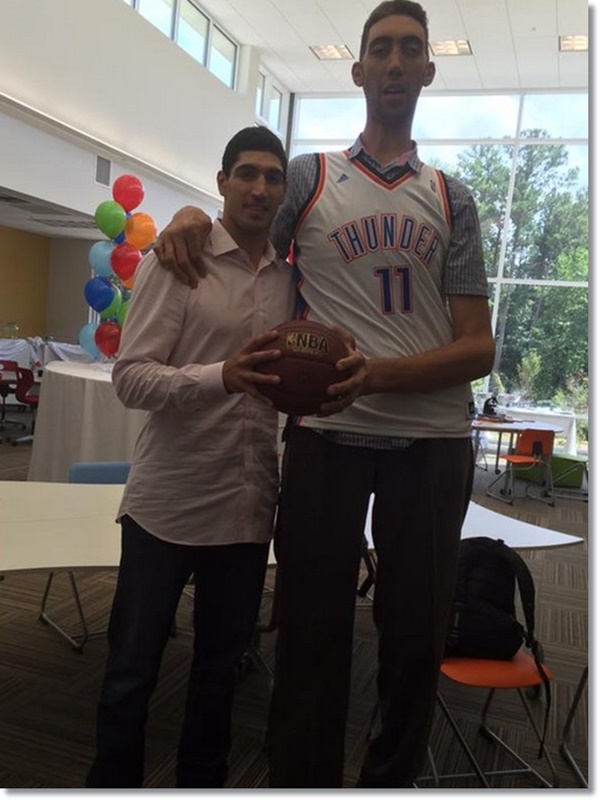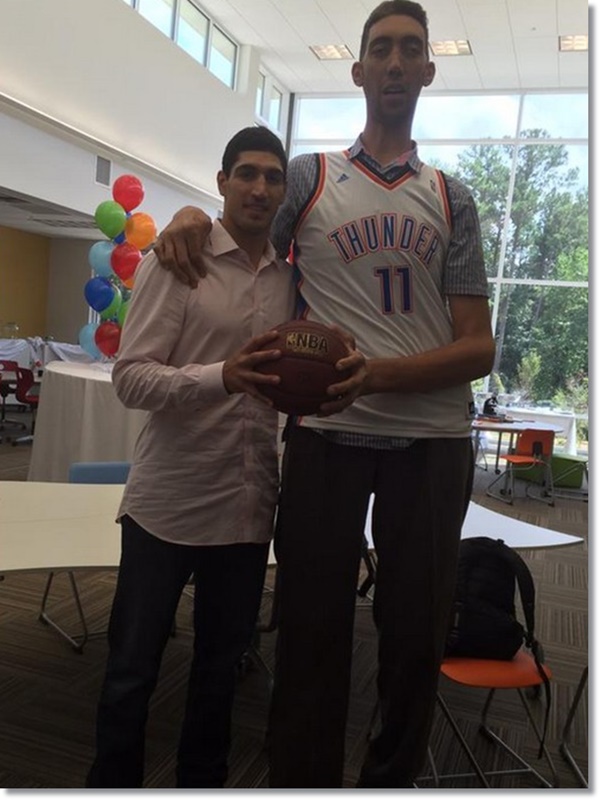 Allen Moll has been a lifelong NBA and NCAA College Basketball fan who watches and studies games religiously, and coaches youth basketball in his native Lehigh Valley region of Pennsylvania. Allen has also provided content to Bleacherreport.com, Upperdeckblog.com, Cleveland.com, CSN Philly.com, Buckets Magazine, Balltribe.com, in addition to being a tenured NBA and NCAA columnist for TheHoopDoctors.com.