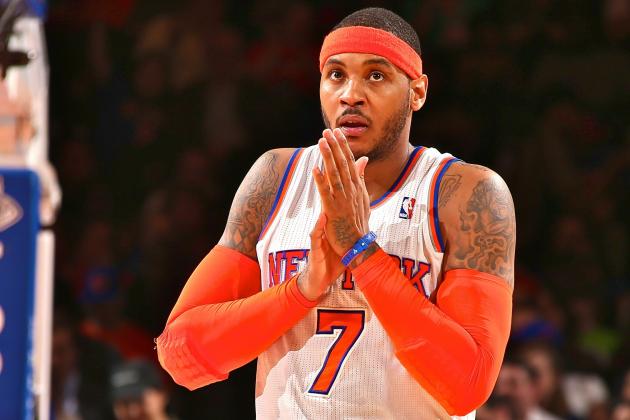 One of these summers, the New York Knicks are going to stay out of the unflattering rumor mill.
Not this summer, though.
For a team that's having an understatedly good offseason, even though they failed to nab another superstar in free agency, the Knicks just cannot escape the negatively charged conjecture bugaboo.
This is mostly in regard to the relationship between team president Phil Jackson and franchise centerpiece Carmelo Anthony. Melo apparently wasn't happy the Knicks drafted Kristaps Porzingis. But then he was totally cool with it.
Shortly after that, once Jackson had signed the likes of Robin Lopez, Arron Afflalo, Kyle O'Quinn and Derrick Williams instead of LaMarcus Aldridge or Marc Gasol or DeAndre Jordan, the word was that Anthony and the Zen Master were having something of a falling out—to the point where they hadn't spoken since free agency began.
Now, though, we're hearing that everything is cool between New York's two polarizing figures, free-agency radio silence be damned.
Per Marc Berman of the New York Post:
Carmelo Anthony is good with Phil Jackson … for now.

Knicks officials have been in contact with Anthony in the last 24 hours and got a strong sense he has been bothered by rumors about his disillusionment with Jackson's free-agent haul. Anthony made it clear he still "trusts Phil'' and is trying to enjoy a vacation before ramping up his summer rehab training.
Shocking.
But not really.
Melo cannot do anything other than trust Jackson at this point. At the bare minimum, he has to make it seem like he trusts Jackson. He has no other options.
Sure, he could waive his no-trade clause and demand the Knicks trade him to the Chicago Bulls, or the Los Angeles Clippers, or the Los Angeles Lakers, or the Houston Rockets. But that wouldn't be a good look for him.
Plus, none of those teams are going to trade for him now.
In the case of the Clippers and Lakers, they don't have the moveable parts to make accommodate Anthony's $22.9 million salary. The Clippers aren't going to dangle Blake Griffin, Chris Paul or, once he's eligible, DeAndre Jordan, and the Knicks have no reason to accept a package built around Roy Hibbert's expiring deal without receiving picks or D'Angelo Russell in return. The Lakers aren't flush with picks, and it's doubtful they'd give up on Russell for a 31-year-old superstar coming off knee surgery.
The Rockets are in a similar boat. They cannot even begin to make the finances behind a deal work without either giving up one of Dwight Howard and James Harden, or completely stripping their roster of just about every other single player on it. And as far as Chicago goes, that ship has sailed with Fred Hoiberg in charge. Melo is the anti-Hoiberg in terms of offensive fit.
Besides, it's entirely unlikely any team gambles on Melo before next year's salary-cap explosion. Maybe next summer, after the free-agency landscape has been sorted out and Kevin Durant has signed a new contract, there will be squads wiling to bite.
For now, Anthony has Jackson, and the Knicks, and the reality that he must buy into this rebuild for at least another year, if only because there's no obvious escape route at his disposal.