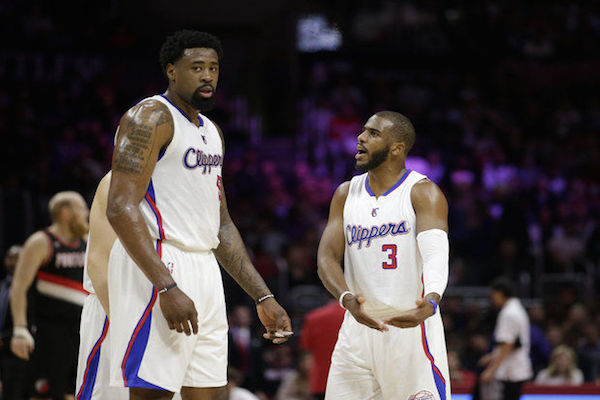 So about that rift between Chris Paul and DeAndre Jordan…
When Jordan first chose the Dallas Mavericks over the Los Angeles Clippers in free agency, his relationship, or lack thereof, with his point guard seemed to be the driving force behind said departure. Now, on the right side of his offseason flip-flop, it appears the drama was overblown or outright manufactured.
As Paul said, per the Boston Globe's Gary Washburn (h/t NBC Sports):
CP3 on DeAndre Jordan returning "Unbelievably happy. (DJ) is like my big little brother. We talk a lot more than people realize." #Clippers

— gary washburn (@GwashburnGlobe) July 20, 2015
This isn't to say there wasn't any beef between Paul and Jordan. Paul Pierce, a newcomer to the Clippers family, readily admits that night at Jordan's casa in Houston proved to be a valuable relationship-resurrecting occasion:
Pierce on Houston meeting: "I think guys cleared the air if there was any tension. But I think a lot of the media made it more than it was."

— gary washburn (@GwashburnGlobe) July 20, 2015
(Aside: In the media's defense, everyone and their mother was tweeting out transportation representative emojis. Blake Griffin also sent out a picture of a chair blocking the door, as if to say the Clippers were, in fact, trying to keep the Mavericks out. Certain members of the media—sup, Chris Broussard—may have drummed up the circumstances, but many of those involved were equally culpable in keeping up the ruse.)
One has to wonder why this whole hug-it-out thing didn't take place before Jordan was in a position to spurn the Clippers for the Mavericks. His teammates didn't even show up to the first recruiting meeting, and it seems Doc Rivers and co. didn't take his desire to be a bigger part of the offense seriously enough the first time around.
More than the media, or even Paul himself, it seems as if the Clippers in general had communication problems. Luckily, those problems appear to be gone now, after the bonding experience that was DeAndre's indecision.
To think, though, Jordan and CP3 worked well together before, when things were either bad, not great or just OK.
Imagine what they'll be able to now that Jordan is CP3's big little bro.