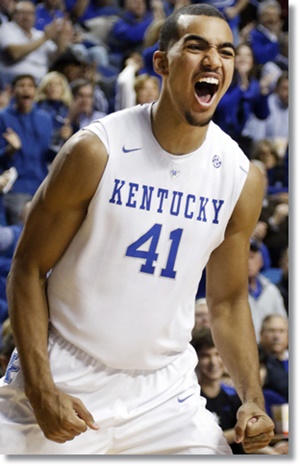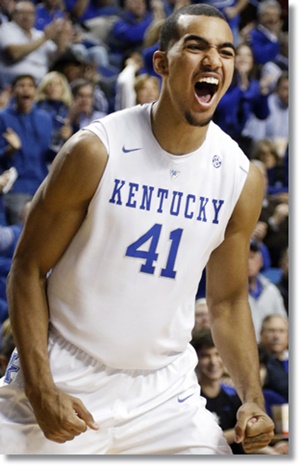 Surely New York Knicks fans were unhappy when they fell from the #2 pick to nabbing the #4 pick in the 2015 NBA Draft when the Lottery was unveiled 2 weeks ago.
After suffering through arguably one of the worst seasons in franchise history, a horrific 17-65 campaign, with star Carmelo Anthony missing half of the season due to knee surgery, the team was hoping to have some luck in moving up and grabbing the #1 pick, like they did in 1985 when they selected game changing, future Hall of Fame big man Patrick Ewing.
Nabbing either Kentucky's Karl Anthony Towns or Duke's Jahlil Okafor at #1 was the original plan but now sit at #4 and are likely looking at taking a player like former HS star Emmanuel Mudiay, who played 1 season in China, bruising Duke guard Justise Winslow, or one of the promising European prospects like Dirk Nowitzki clone Kristaps Porzingas or NBA ready perimeter threat Mario Hezonja, none of which seem to be a franchise stud like Towns, Okafor, or Ohio State PG D'Angelo Russell, projected to go #3 to Philadelphia.
To further muddy the equation, and according to Frank Isola of the NY Daily News, the Knicks are enamored with Kentucky power forward Trey Lyles, who although still only 19 years of age, projects as a Carlos Boozer type player with some seasoning.
The 6'10 and 240 lb Lyles was a valuable starter for the Kentucky Wildcats last season, averaging 8.7 points and 5.2 rebounds in only 23 minutes per game in Coach Calipari's platoon system. Prior to that he was a Top 10 ranked HS player out of Indianapolis, Indiana.
It would be a reach, but not an unreasonable one as Lyles is a projected Lottery pick in THD's most recent 2015 NBA Mock Draft – Version 4.0, just not as high as #4.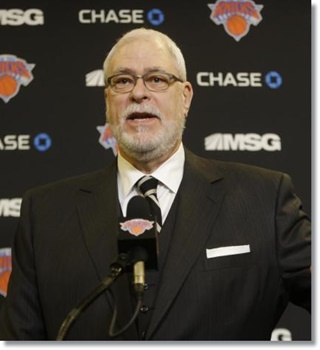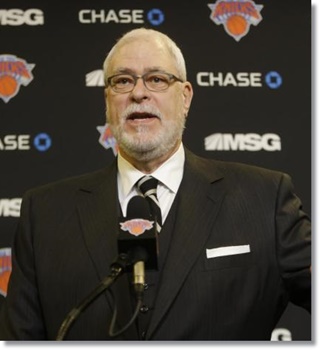 He has NBA ready size at 6'10, with great hands and a soft shooting touch, excellent upper body strength, and a high basketball IQ. Lyles projects as an above average offensive player, capable of scoring from both inside and out, including already having 3 point range. He's an adequate rebounder and his defense is still a work in progress, but most experts agree he does have potential to reach All Star status in time.
GM Phil Jackson likes Lyles' inate passing ability, making him a valuable commodity in the Draft and a perfect fit in the Triangle Offense. The only question is do the Knicks have the time to wait for Lyles to develop as superstar Carmelo Anthony will be 32 years old by the start of the '15-'16 season?
A lot depends on what the LA Lakers do at #2, as although they would be foolish to bypass either Towns or Okafor, they also have a ton of interest in OSU stud D'Angelo Russell, whom many think could be the 2nd coming of 2015 NBA MVP Steph Curry.
One might ask why New York would pass on Mudiay, a speedy floor general in the mold of John Wall, but they do still have a proven veteran PG in Jose Calderon for one more season and the surprising Langston Galloway on the cheap, who was magnificent last season. Also, teams that run the Triangle Offense almost never feature a star point guard as Phil Jackson had Derek Fisher, BJ Armstrong, and Ron Harper in winning 11 NBA Titles with both Chicago and Los Angeles.
Should the NY Knicks Draft Trey Lyles, or go with Justise Winslow, Emmanuel Mudiay, Kristaps Porzingas, or Mario Hezonja?
https://www.youtube.com/watch?v=bwJxp46V1Do
https://www.youtube.com/watch?v=LfbcLtIG7_A
Allen Moll has been a lifelong NBA and NCAA College Basketball fan who watches and studies games religiously, and coaches youth basketball in his native Lehigh Valley region of Pennsylvania. Allen has also provided content to Bleacherreport.com, Upperdeckblog.com, Cleveland.com, CSN Philly.com, Buckets Magazine, Balltribe.com, in addition to being a tenured NBA and NCAA columnist for TheHoopDoctors.com.