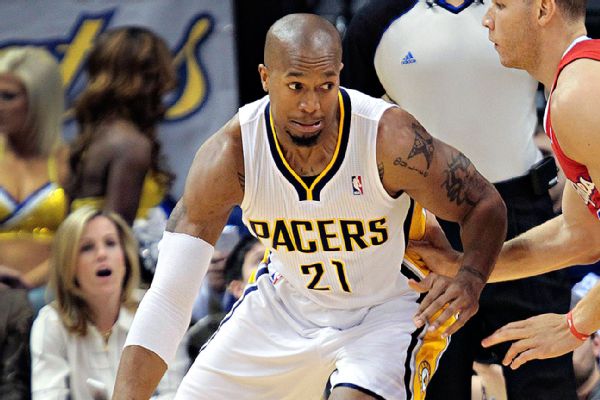 After swinging for the fences by drafting Kristaps Porzingis, New York Knicks team president will now follow up his risk-taking with an all-out courtship of David West.
Wait, what.
From ESPN New York's Ian Begley and Marc Stein:
The New York Knicks will meet with free-agent forward David West, ESPN's Marc Stein reports.

Stein reports that West is a "serious name" on the Knicks' board of potential free agents.

Sources also tell Stein that the Knicks will target LaMarcus Aldridge, DeMarre Carroll and Greg Monroe in free agency. The Knicks, along with several other teams, will meet with Monroe, league sources confirmed.

West has declined his $12.6 million player option with the Indiana Pacers for 2015-16. It is unclear at this point what kind of salary West will seek in free agency, but the Knicks will have at least $26 million to spend this offseason.
Part of this makes sense. If the Knicks signed a lower-end guy like West, they'd have money tied up in him for the next, say, two seasons. That, in theory, wouldn't pigeonhole Porzingis, who is 7'1″ without shoes, to the 4 spot. He could see time at the 5, and then a more definitive decision about his everyday position could be made when West's contract expires in 2017.
And because both Porzingis (raw) and West (old) will be playing limited minutes, this wouldn't pin Melo to the 3. When one of Porzingis or West is on the bench, he would would play the 4 while his partner plays the 5.
If the Knicks signed Marc Gasol, though, both Melo and Porzingis would be locked in at the 3 and 4, respectively. That's not the worst thing in the world, but Melo is better off at the 4, and Porzingis has stretch 5 potential, provided he beefs up.
Of course, it doesn't even sound like this is what the Knicks are thinking about. West is being mentioned as a possible power forward option, thus still pigeonholing Melo to the 3 while forcing Porzingis off the bench.
That scenario isn't OK. West's efficiency has been in decline over the last couple of years, he cannot run the floor or defend stretch 4s, and he doesn't spread defenses with a consistent outside touch.
All of the contemporary goodwill Jackson has earned by investing in a modern-day big like Porzingis and mentioning his intention to play Melo more at the 4 will evaporate if that becomes New York's plan. Not to mention they shouldn't be bringing Porzingis along that slowly. If he comes off the bench, there's a chance he doesn't even crack 15 minutes per game, and that's simply unacceptable.
Signing West, then, doesn't make too much sense for the Knicks long term. He doesn't elevate their immediate ceiling considerably, and he threatens to stunt Porzingis' growth.
Jackson and friends would be better off staying away.