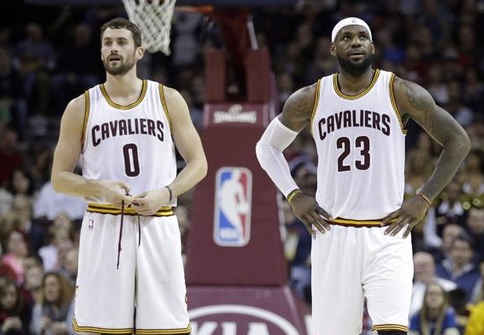 Kevin Love and LeBron James are both going to become free agents.
No, Cleveland Cavaliers fans shouldn't panic like crazy. And yes, we're manipulating the concept of free agency here.
Both players own player options for next season. Neither is expected to accept his. Love and LeBron will instead opt out and, in theory, be free to sign with any team. Per ESPN.com's Brian Windhorst (h/t FanSided):
As if the Golden State Warriors' championship celebration on the Cavs' floor Tuesday night wasn't bad enough, the Cavs' immediate future is troublesome: James, Kevin Love, Tristan Thompson, Iman Shumpert, J.R. Smith and Matthew Dellavedova could all be free agents by July 1.

James, Love and Smith have player options for next season and all are expected to decline them. Thompson, Shumpert and Dellavedova are expected to receive qualifying offers from the Cavs and they will become restricted free agents, giving the team the right to match any offer they receive. And the extensions Kyrie Irving (five years, $90 million) and Anderson Varejao (two years, $20.3 million) signed last year are also set to kick in.
First off, the Cavaliers are going to have another expensive summer. If they want to keep this exact core intact, it'll cost a pretty penny, one whose beauty, as Windhorst notes, exceeds $100 million in value.
Back to LeBron and Love, though.
Reentering free agency is purely a financial decision for LeBron. He can sign another short-term max contract, likely for two years, with an opt-out clause for next summer, thus allowing him to re-up with the Cavaliers again in 2016, after the salary cap and, along with it, his individual earning potential explodes.
Love's case is more difficult.
Financially speaking, it makes sense for him follow in LeBron's footsteps. He's eligible for a five-year max that'll start at a higher salary than he's slated to earn next season ($16.8 season). And after suffering yet another injury, not to mention seeing the Cavaliers roll through a weak Eastern Conference, securing a lucrative long-term commitment may be in his best interest.
Like LeBron, Love also has the option of signing a short-term deal, one that allows him to explore free agency again in 2016 when the salary cap erupts. His five-year contract value with the Cavaliers will skyrocket by more than $50 million over its entire life if he waits to sign it until next summer.
The caveat, of course, is that Love, unlike LeBron, is considered a flight risk. The above method works well for someone planning to swap teams. Though Love's new team wouldn't own his Bird rights for three years, meaning the Cavaliers could still offer him more money, the salary-cap jump won't make him feel the financial ramifications as much. He'll still be making way more with his new team, assuming he signs another deal in 2016, than he would if he put pen to paper on a five-year pact this summer.
It's all very technical stuff. But Love's foray into free agency is nonetheless one to watch. He's said repeatedly that he intends to stay in Cleveland. And, this summer, those words will be put to the test.