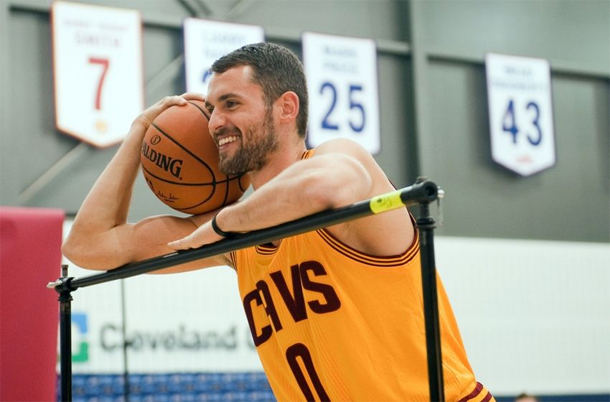 Since being traded to the Cleveland Cavaliers, Kevin Love continues to be bombarded by countless rumors regarding his impending free agency. Many assume he'll eventually opt out of his contract to play for another team, while some believe that he'll stay put in Cleveland. But ultimately, no one can know for sure except for Love himself, in which he recently shed some light as to his intentions.
On Sunday night, Love addressed the media for the first time since his season-ending shoulder injury and was asked yet again about his future with Cleveland, via Dave McMenamin of ESPN.com:
Kevin Love on next season: "I truly expect to be suiting up for Game 1." For the Cavs? Love: "Yes, sir."

— Dave McMenamin (@mcten) May 31, 2015
Even with this strong declaration, don't expect the rumors to stop; in fact, they'll keep coming until it becomes official.
The Cavaliers wouldn't be where they are now without the emergence of Tristan Thompson, who's given them that much-needed boost in rebounding, scoring, and toughness the playoffs require, successfully filling in for the projected role of injured Love. But with Thompson thriving well in the offense, this unsurprisingly provoked more rumors regarding Love leaving, as for once there were questions about not only Love wanting to stay, but the team actually wanting to sign him.
It's safe to say that Love has yet to fully find a rhythm in Cleveland, which is more than an enough reason for people to question his future with the franchise.
But as for now, the Cavaliers shouldn't even be worrying about this at all. They'll need all their focus against Steph Curry and the Warriors if they hope to finally win a championship in Cleveland.