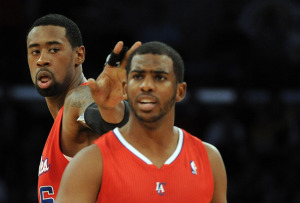 Take what you're about to read with, um, an open mind.
Following their epic collapse against the Houston Rockets, the Los Angeles Clippers are entering a pivotal offseason, one that should see them make substantial changes, perhaps wholesale tweaks, to a core that, as of now, just isn't good enough.
Some of the changes that take place may be beyond their control. Although Chris Paul and Blake Griffin are locked up long term, DeAndre Jordan will hit unrestricted free agency and is due for a pay raise. The Clippers are going to offer him a max contract. You can bet on that. But DJ also intends to explore free agency and will do so after seeing the Clippers peak in the second round together, which, in turn, could be motivation for him to seek a larger role elsewhere.
Also at play is his relationship with Paul. According to Bill Reiter of Fox Sports, the two have been at odds:
ll season, multiple sources say, a growing schism emerged between Jordan and point guard Chris Paul, and it could contribute to Jordan's decision to stay or go as a free agent.

Sources say Paul's well-known edginess and drive ground on Jordan's nerves for much of the year. Contributing to the problem was Paul's view that Jordan lacked the appropriate commitment to working on his free throws, including not working enough with the Clippers shooting coach on that issue, sources said.

"Things aren't good there," a league source familiar with the inner workings of the Clippers organization said. Asked if the issues between the two were serious, the source said, "Oh yeah. (Jordan) might leave. He really might." …

Sources — including two friends of Paul — say he does wear on his teammates but only because he cares deeply about winning and carries himself as much as a coach as a point guard. The league source familiar with the Clippers organization says both players are great teammates — only, often this season, not with each other. That's why, the source says, the Dallas Mavericks — considered a major player in the Jordan sweepstakes — could have as good a chance to land Jordan as the Clippers.
Like always, I implore to account for the heat of the moment factor. The Clippers just blew a 3-1 series lead and, thus, a shot at their first-ever Western Conference Finals appearance. Any intel that comes immediately after such a letdown, including this, must be met with a healthy amount of skepticism.
But Paul is notoriously demanding of his teammates. The report also makes sure to mention this isn't new and that Jordan and Paul have been feuding for a while. And, if true, you can bank on that playing a role in how Jordan approaches free agency.
He's the third fiddle right now in Los Angeles. That may be the extent of his value with any team given his limited offensive game, but if he's butting heads with the person most responsible for his offensive success, it's cause to explore other pastures.
The Clippers can offer him more money and years than anyone else, but at 26, with a great health bill, Jordan has the ability to sign a two-year deal with a player option for 2016-17, thus allowing him to capitalize on the impending cap boon, recouping some of the money he would leave on the table in Los Angeles this summer.
Of course, it's still early. There's still time for DJ and Paul to make nice, still time for the Clippers and DJ to formulate a plan that's independent or dependent on the other and, by extension, still time before we know what, if anything, becomes of this rift between two stars.