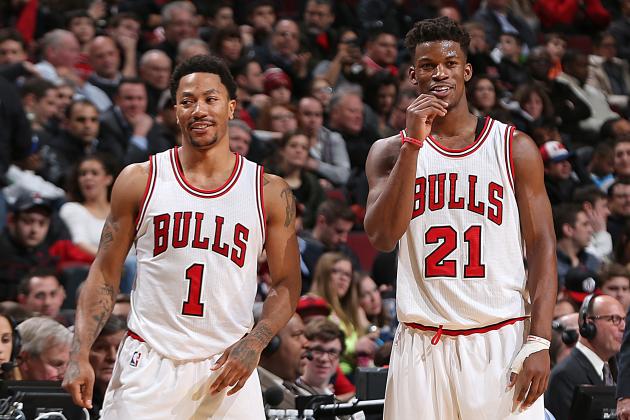 Derrick Rose and Jimmy Butler may not have been playing nice when the Chicago Bulls went down in a haze of nothingness against the Cleveland Cavaliers in Game 6 of the NBA semifinals.
That's the story anyway, as told by CBS Chicago's Dan Bernstein:
It made little sense that Rose attempted only four second-half shots, scored just one basket and attempted no free throws as his team surrendered meekly on its home floor in a 94-73 setback in Game 6 of the Eastern Conference semifinals. After a blistering first quarter in which he shot 5-of-9 and handed out three assists, he would score just four more points after that and seemed reluctant to attack the basket in what was the biggest game of his career.

Rose was never asked directly why he disappeared when his team needed him most, but sources tell 670 The Score that a common NBA problem affected the Bulls at the worst possible time – two alpha dogs and only one basketball.

It looked strange when wing Jimmy Butler kept flashing to Rose's side of the floor, calling for the ball, as the Bulls' offense was drying up. Rose was all too happy to oblige instead of waving Butler off and taking charge, either resetting the called play or taking his man – often the undrafted Matthew Dellavedova – hard to the rim for at least a likely foul.

Sources describe a passive-aggressive reaction from Rose that was the culmination of tensions building in recent weeks with Butler's emergence as a primary scorer. Butler is very aware that he won his bet on himself and is poised to reap the reward of a maximum contract from the Bulls, whether or not it takes an offer sheet from another club in restricted free agency this summer. Butler's emergence was validated by the NBA's Most Improved Player Award, and he's now feeling every bit the star, with all that entails.
To be absolutely honest, I'm not really sure what this even means, or whether it's true, or whether it's half-true, or whether there's even a tiny iota of truth to it at all. Make no mistake, someone told this to Bernstein. I have no doubts there. But it's too convenient that Rose's sudden frustration comes after a second-round exodus, when neither he nor Butler is readily accessible and able to answer for this so-called riff brewing between them.
Plus, it's difficult to imagine Rose laying down in a do-or-die Game 6 on purpose. It's more likely he was out of it or pressing or just didn't see his opportunity to attack as much. It's definitely odd that he attempted only 16 shots and no free throws in such a situation, but that happens when you're a superstar who's still not 100 percent.
More than anything, this isn't Rose's style. Ever the loyal Bull, it's not like him to have beef with a teammate, especially one who has been among those praising and defending him over the last few years. Such drama also isn't indicative of a Tom Thibodeau-coached team. The Bulls were a lot of things they weren't supposed to be this season, no doubt in part because Thibs is tracking toward an exit, but they're not emotionally implosive.
So I'm not buying this, and you shouldn't either. Butler is a max-contract star, and Rose certainly didn't look great in Game 6. But it's unlikely these two are feuding at all.