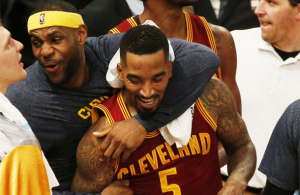 J.R. Smith would like to teach Kevin Love a lesson in teammate support.
Asked about LeBron James' triple-double performance in the Cleveland Cavaliers' Monday night win over the Detroit Pistons, Smith waxed MVP status, per ESPN.com's Dave McMenamin:
"Who? The real MVP?" Smith said, his message echoing to the sellout crowd of 20,562 who were making their way to the exits. "There's a lot of speculation about who should get the award, but we all know who the real MVP is." …

"In actuality, if you really wanted to, you could give it to him every year," Smith said of James, who won the award four times in his first 11 seasons in the league. "I mean, the numbers, what he does for teams. You see one year removed from a team like Miami — and they probably won't even make the playoffs — to a team that hasn't made the playoffs since he left and then, all of the sudden, we're a 52-win team. So I don't think you can do that with anybody else that's in our league right now.

"Not to knock anything from the other two guys [Stephen Curry and James Harden]. They're having great years, career years for both of them, but if you want to be realistic about it, you could give it to him every time."
Jot this down: On Monday, April 13, 2015, J.R. Smith, notorious party-goer and Twitter-wrongdoer, was the unequivocal voice of reason.
The MVP race is complicated. At least it was complicated. Five names dominated the conversation for so long—LeBron, Stephen Curry, James Harden, Anthony Davis and Russell Westbrook—before Curry and Harden, season-long frontrunners, jumped out well ahead of everyone, making it a two-man chase.
And at this point, it's really a one-man pursuit. No NBA MVP over the last 30 years has played for an outfit that finished worse than third in their respective conference. The Houston Rockets are currently fifth in the West, and while they have an opportunity to snag second, they could also drop down to sixth, in all likelihood obliterating Harden's MVP cred.
But on another level, the MVP race is different. It's still a one-man show, but it's not Curry who leads the pack. It's James. He's still the most impactful player in basketball, and though you can certainly make the case that Curry is more valuable than LeBron this season, the entire body of work leaves nothing to chance.
Just as Michael Jordan could have won 10-plus MVP awards, LeBron is an MVP contender every season. And not only is he contender, but even during seasons like this or the one before it, when LeBron isn't viewed as a favorite, he could still win the honor. When factoring in all he has done, continues to do and has yet to accomplish but inevitably will, he's the league's most valuable player in the truest sense of the phrase.
Curry deserves the distinction this year, make no mistake. Harden is right there, too. But LeBron is in a different class of player, of athlete, of megastar, so he doesn't need the actual Maurice Podoloff Trophy.
Tangible award or not, he's the league's most valuable player until, quite frankly, he isn't. And right now, he still is.