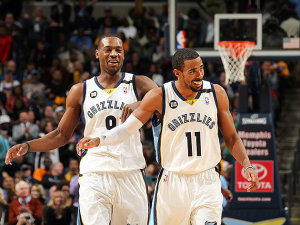 With the 2014-2015 regular season officially wrapped up. It's now time to get ready for the start of surely another memorable and exciting postseason.
However, the Memphis Grizzlies may not be fully ready come playoff time, as they are still missing two key players in their starting lineup. Star point guard Mike Conley, and defensive specialist Tony Allen are both dealing with injuries, and so far there has been no designated timetable for their return.
Via Ronald Tillery of The Commercial Appeal:
Joerger says Allen and Conley couldn't play if tonight was a playoff game. There's no timetable for their return. http://t.co/wYRV1ZumuM

— Ronald Tillery (@CAGrizBeat) April 15, 2015
Both Conley and Allen are major reasons for this seasons success—and their absence is a huge blow for the team's playoff chances. Conley's ability to guide the offense and Allen's energy and defensive prowess will be needed if the Grizzlies want to have a shot in round one.
The Grizzlies do have Jeff Green though, who is such a versatile player from both sides of the court. Also, the Grizzlies' reserve players, Courtney Lee, Vince Carter, Beno Udrih, have been strong contributors off the bench for most of the season. However, none of them can fully fill in the void left by Conley and Allen. It's just too damn big.
The fifth seeded Grizzlies will have their hands full, facing the Blazers in the opening round of the playoffs on Sunday.
Will that be enough time for Conley and Allen to recover and return to the lineup?
Let's hope so, for the Grizzlies' sake.
Benjamin Felix Santos is an aspiring NBA writer, who bleeds the purple and gold. His love and passion for the game will never die.
Follow @biefsantos